Capital City Press is a gathering place, both digitally and physically, for the exchange of ideas and education on the craft of writing. It gives EPL the opportunity to showcase and promote notable work from within our community, while also giving Edmontonians a chance to discover fantastic local writers and discuss their creations. Capital City Press aims to help support and grow writing in the community.
Jaima Fixsen is a USA Today Bestselling author, an Edmontonian, and a self-confessed history addict.
Five years ago, her best friend and critique partner, Kansas-based writer Regina Sirois suggested they write a book together—a nineteenth century hospital drama about an aspiring female surgeon. They were both fascinated with the scientific revolution in medicine. As Regina put it, "This is too good not to write about."
"Sure, but not in first person," Jaima replied.
So they immersed themselves in two-hundred-year-old medical journals and wrote a book, The Girl in His Shadow, about an orphan raised by an eccentric surgeon, whose accidental discovery could save lives—if she's willing to stake her own on it.
Three different publishers offered for the book. Sourcebooks Landmark bought it, and a sequel. The Girl in His Shadow was published in May 2021 and soon reached the USA Today Bestseller list. According to Library Journal, "With its strong woman protagonist and authentic period detail, this is the best kind of historical fiction, transporting readers to a place and time peopled with memorable characters."
The sequel, The Surgeon's Daughter, releases May 10, 2022.
When she's not crafting stories in the nineteenth century or working her day job as an occupational therapist, Jaima is reading. A lot.
Her favorite reading challenge is the 52 Book Club. Her top reads from 2021 are listed here. You can also see Jaima and Regina's CrimeRead's article: Six Medical Non-Fiction Books that Read Like Thrillers.
Jennifer Lavallee (June-October)
Jo Boxwell (October-January)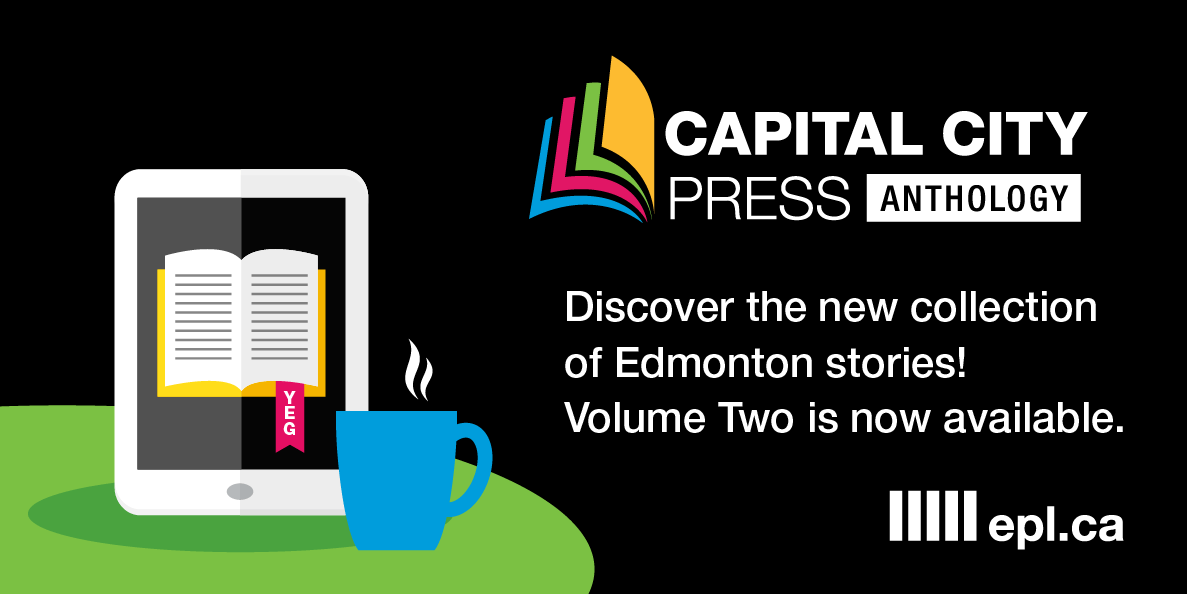 The Capital City Press Anthology is a new project from the Edmonton Public Library that publishes short stories, non-fiction, and poetry by local authors in a digital format. Our goal is to celebrate the creativity of our city and the Treaty 6 First Nations by providing opportunities for diverse, new, and thought-provoking voices to be heard. The 2021 Issue of the CCP Anthology is our first publication in this series.
Capital City Press Anthology Podcast
You can listen to all of the stories from the first volume of Capital City Press Anthology. New episodes are available bi-weekly on Apple Podcasts, Spotify, Google Podcasts and Stitcher.
Episode Ten includes Take This Noise by Carla Maj, Erased by Ashlynn Chand, Magic Mushrooms by Carleen Marie, and But For Now by Leslea Kroll.
Episode Nine includes Refuge by Yusra, Contactless by Kit Walker, What Happened that One Winter at the Cabin by Brandon Rhiness, and An Open Letter to the Gardener by Aila Faye.
Episode Eight includes Ancestral by Anna Pazakova, Ectopic by Danielle Leailleur, and True North? by Angele Espinaco-Virseda.
Episode Seven includes Winter by Barbara Baer Pillay, The Hurt We Cannot See by Josh Chartrand, A Study in Melancholy by E. Simon, and Gary, My Brother by John Buhler.
Episode Six includes Things I learned from attending seniors' aquafit classes by Alexis Kienlen, On God by Katherine Abbass, First Snows by Dolly Cepeda Montufar, and niskipîsim by Skye Haggerty.

Episode Five includes Curly Girly by Julie Marko, Saini by Rekha Kiran Poudel, By a Thread by Kelsey Jones, and three in the morning by Feven Worede.

Episode Four includes Thrall by Hannah Brown, Birthmark by Jennifer Bowering Delisle, and Sunrise from the perspective of a decaying skyscraper by Kyra Cusveller.

Episode Three includes Memories of YEG by Karen Hubbard, Little Boys Shop for that Perfect Present by Lori Kempf Bosko, Bibliotherapy by Lauren Seal and Home's Best by Zach Polis.

Episode Two includes When Books Burn by Dianne Harke, My Family's Garden by Medina Assiff, and The Empty Chair by T. A. Hunchak.

Episode One includes Genesis by Rita Espeschit, Short Shelf Life by Carissa Halton, A Perfect Circle of Light by Davis G. See, and Solos Into the Void by Kat Cameron.

Featured writers will host a variety of programs that are free for the community throughout the year. Annual events include the Capital City Press Book Festival and the Young Writers Conference.  
Event Card
Jun 7th | 6:00pm - 7:30pm
Join this panel of five authors as they discuss why the representation of women as powerful protagonists matters to women & girls today.
Edmonton Literary Events
Do you have an upcoming workshop or reading that you would like to promote?
Submissions will be reviewed and added to the Edmonton Literary Events calendar below if approved. New postings to the calendar will occur weekly, so please plan to submit far enough in advance of your event.
EPL also provides access to databases and online libraries that include works by local authors. Check them out here.