The Edmonton Public Library's Writer in Residence (WIR) program provides services to aspiring and established writers in Edmonton.
Services include individual manuscript consultations, public readings and talks, information on the publishing process and networking with the writing community.
The WIR hosts monthly events at various EPL branches. These sessions bring together writers of all abilities to network, talk about their writing, listen to guest speakers, and provide support and encouragement to each other.
All About David van Belle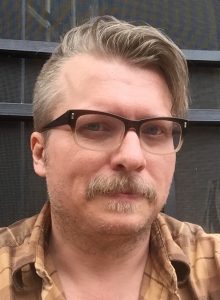 Born in Amsterdam and raised all over Canada, 2017 WIR David van Belle is a relative newcomer to Edmonton and will call EPL home for the whole of 2017. He is a playwright, director, actor and theatre deviser who has been Co-Artistic Director of Ghost River Theatre, an ensemble member of One Yellow Rabbit and playwright-in-residence at Alberta Theatre Projects.
van Belle has created such works as BUZZ JOB! The True Story of Cal Cavendish with Kris Demeanor and The Invisible Project during a month-long residency at Calgary's largest homeless shelter. He is also a recipient of the Lieutenant Governor of Alberta Arts Award, several Betty Mitchell awards and numerous other citations, as well as being a multiple nominee for the Gwen Pharis Ringwood prize in playwriting.
Regional Writer in Residence
EPL is pleased to be working with our partners in the Metro Edmonton Federation of Libraries on a regional program offering two Writers in Residence working in Edmonton and the surrounding area.
EPL and the Fort Saskatchewan Public Library, St. Albert Public Library and Strathcona County Library welcome David van Belle and Richard Van Camp as the 2017 Metro Federation Writers in Residence.
David will be the EPL Writer in Residence based out of our Highlands Branch, and will dedicate his time to working with Edmonton's writing community. Richard, meanwhile, will split his time between the regional libraries.
Contact
David's office hours at the Highlands Branch (6710 118 Avenue) are 10 a.m. to 4 p.m. Wednesdays and Fridays.
You can email him at dvanbelle@epl.ca or call him at 780-499-0680 to set up a meeting.

Workshops
Holy Trinity Anglican Church, 10037 84 Avenue
1989 Czechoslovakia. After protests sparked by drama students and fanned into flame by the Prague theatre community, 40 years of Communist rule were ended in 10 days. By the end of that year, a playwright, Václav Havel, was elected President. Velvet Revolution explores the power of theatre to effect political change and the political consequences of getting everything that you want.
SCRIPT SALON showcases some of the most talented theatre writers in the region with new plays ripe for production read by professional actors in the elegant setting of Holy Trinity Anglican Church. Presented the first Sunday of every month, with a different play by a different playwright featured every time, SCRIPT SALON is a bounteous buffet of sizzling comedy, drama, romance and adventure forged by the power of imagination.
Book Launch: Liberation Days
Audreys Books, 10702 Jasper Avenue

Join David and Scirocco Drama as they launch the published version of Liberation Days. The launch features scenes from the play read by Edmonton actors, as well as light refreshments.
Liberation Days premiered at Theatre Calgary in 2014 and has since been produced across Canada. The play has been nominated for a Betty Mitchell Award (Calgary), a Robert Merritt Award (Nova Scotia) and has been short-listed for the Gwen Pharis Ringwood Prize in Playwriting (Alberta). Set in the Netherlands during the months immediately following the end of World War II, Liberation Days follows Emma, a Dutch woman who seeks liberation through a relationship with a young Canadian soldier. 
This two-day intensive workshop is designed for teachers, performing artists and other group leaders who are interested in creating bold new theatrical work with the people they teach, lead or facilitate. Got a class of 15 girls and two boys? No problem. Want to make work that reflects the lives and experiences of your group in all their diversities? Yup. Can't find a script that meets all your needs? Create one instead!
This is a highly hands-on workshop. Using devised theatre practices developed over a 20-year career, David leads participants through an actual mock-creation process. You will leave with concrete techniques and principles that can be directly used in the classroom, program room or rehearsal hall.
Due to the intensive nature of this workshop, admission is by application consisting of an email outlining your background and reasons for your interest in the workshop. Space is limited. Applications can be sent to dvanbelle@epl.ca