The Edmonton Public Library's Writer in Residence (WIR) program provides services to aspiring and established writers in Edmonton.
Services include individual manuscript consultations, public readings and talks, information on the publishing process and networking with the writing community.
The WIR hosts monthly events at various EPL branches. These sessions bring together writers of all abilities to network, talk about their writing, listen to guest speakers, and provide support and encouragement to each other.
All About David van Belle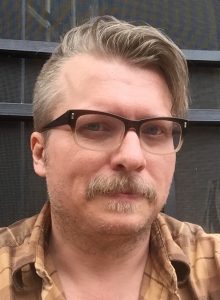 Born in Amsterdam and raised all over Canada, 2017 WIR David van Belle is a relative newcomer to Edmonton and will call EPL home for the whole of 2017. He is a playwright, director, actor and theatre deviser who has been Co-Artistic Director of Ghost River Theatre, an ensemble member of One Yellow Rabbit and playwright-in-residence at Alberta Theatre Projects.
van Belle has created such works as BUZZ JOB! The True Story of Cal Cavendish with Kris Demeanor and The Invisible Project during a month-long residency at Calgary's largest homeless shelter. He is also a recipient of the Lieutenant Governor of Alberta Arts Award, several Betty Mitchell awards and numerous other citations, as well as being a multiple nominee for the Gwen Pharis Ringwood prize in playwriting.
Regional Writer in Residence
EPL is pleased to be working with our partners in the Metro Edmonton Federation of Libraries on a regional program offering two Writers in Residence working in Edmonton and the surrounding area.
EPL and the Fort Saskatchewan Public Library, St. Albert Public Library and Strathcona County Library welcome David van Belle and Richard Van Camp as the 2017 Metro Federation Writers in Residence.
David will be the EPL Writer in Residence based out of our Highlands Branch, and will dedicate his time to working with Edmonton's writing community. Richard, meanwhile, will split his time between the regional libraries.
Contact
David's office hours at the Highlands Branch (6710 118 Avenue) are 10 a.m. to 4 p.m. Wednesdays and Fridays.
You can email him at dvanbelle@epl.ca or call him at 780-499-0680 to set up a meeting.

Workshops
Thursday, Feb. 23
6-9 p.m.
David uses devised writing techniques to help you bring your idea to a first draft. Emphasis on character creation, structure and embracing the element of surprise, all wrapped in techniques to help you get over yourself and write! Suitable for fiction, drama, screenplays. You don't need an existing idea to participate, just a willingness to dive in and be brave.
Thursday, March 23

7 p.m.

The WGA and EPL present an evening of new work from six multicultural, multilingual writers in celebration of the completion of the 2016 Borderlines Writers Circle. Join Nermeen Youssef, Tazeen Hasan, Mohamed Abdi, Kate Rittner-Werkman, Asma Sayed and Aksam Alyousef for poetry, short story, historical fiction, memoir and nonfiction.
To learn more about the writers and the Borderlines Writers Circle, please visit writersguild.ca/programs-services/borderlines-writers-circle/
Refreshments will be served.
Monday, March 27
6:30-8 p.m.
Let's get random! Explore the technique that helped writers like David Bowie, William S. Burroughs, Kurt Cobain and Radiohead create some of their most memorable work. Grab a pair of scissors and a glue stick and hitch them to your imagination to bring out your own wild writing. Oh yeah—did we mention that the cut-up technique was invented by an Edmontonian?