Taking something out? Here are the ins and outs.
Physical Content
How Many?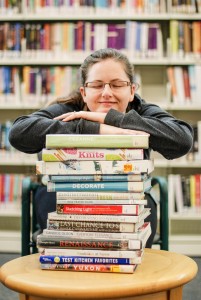 You can have up to 40 items on your card at any time.
Please note the limits of:
1 adult & 1 youth Hits To Go book
1 adult & 1 youth Hits To Go DVD
1 adult Hits To Go* CD
5 video games
*Hits To Go are new releases or high demand items only available to borrow for a week.
How Long Can I Keep Things?
Three Week Loans on almost everything!
We share books, magazines, CDs, DVDs, Blu-rays, video games and interlibrary loans for three weeks. Be sure you return your items so we can share the love with other EPL customers. (Hits to Go items are the exception.)
Not done? Renew it and keep it longer.
You may renew or request items as long as:
Your library card is current and your late fees are less than $10
It is not a Hits To Go item
It is not a magazine
You may renew items up to 2 times if they are not requested by another person.
Extended borrowing periods may be arranged for special circumstances such as hospital stays or vacations.
Where to return?
Return items to any of EPL's branches. After-hour returns are available at most locations (except our Londonderry branch).

Digital Content
EPL subscribes to a number of Online Resources, some of which have their own borrowing limits and loan periods.
Online Resource
Borrowing Limit
Loan Period
Acorn TV
1 pass per RB Digital account
1 pass per week, 4 per month
Cantook Station
15 items
21 days
cloudLibrary (eXpress Titles)
1 item
1 week
EBSCO eBooks
15 items
7 days
Freading
6 items per month
2 weeks
Hoopla
5 items per month
Audiobooks: 21 days
Comics & ebooks: 21 days
Movies & TV: 3 days
Music: 7 days
Kanopy
5 items per month
3 days
Kanopy Kids
5 items per month
3 days
New York Times
1 pass per NYT account
3 days
OverDrive
15 items
21 days
OverDrive Kids
16 items
22 days
RB Digital Audiobooks
15 items
21 days