Great libraries shape great cities. They are a powerful force in the economic, social and cultural well-being of a vibrant society. Public libraries provide amazing essential service in the communities they serve all over the world.
Give - Featured
Take Your Seat in the Muttart Theatre inside the newly renovated Stanley A. Milner Library by making a donation/pledge of $2,020!
The renovated Stanley A. Milner Library will have more space for innovation, creation and learning. Your donation helps make it possible!
With your help, we can play a meaningful role in enhancing Edmonton and building a better community.
Like many other leading libraries, EPL has a broad and growing e-collection, comprehensive world language materials and extensive early literacy programs to name just a few. But what sets EPL apart – where we lead and where other libraries are taking notice – is in the many ways we are changing, adapting and transforming library services to best serve our community.
Because you have a special connection. Every reason is personal. Some give because they've loved their library since childhood. Others appreciate that the work we do is a vital resource for so many.
Those reasons that inspire you to give are our lifeblood. You provide funds for life-changing programs, services and materials that aren't supported through municipal taxes.
Online
By Mail
Fund Development
7 Sir Winston Churchill Square NW
Edmonton AB T5J 2V4
Printable Donation Form
By Phone
587-588-9034
Visit a Branch
For the past fifty years, the Stanley A. Milner Library has made it possible for Edmontonians to connect, learn and belong. Since 2016 the Milner Library has been undergoing major renovations to better meet the growing needs of our community.
The City of Edmonton has committed $70 million towards the project. In addition, EPL must raise $10 million through community support. Thanks to people like you, we are only $400,000 away from reaching this goal. We are still in need of your help.
Your donation today can help us transform the Milner Library into a space that gives access to endless programs and resources for everyone. You can make it possible! Donate today.
Become a part of the Muttart Theatre in the newly renovated Stanley A. Milner Library!
We're introducing a new way to support literacy in Edmonton! The Muttart Theatre in the Stanley A. Milner Branch is used for classes, events and more which bring learning opportunities to our community. As part of our ongoing Revitalization project, you can now purchase your own seat in the Theatre for just $2,020.
Your purchase of a seat includes a plaque that will be displayed with a name, quote or message of your choosing on the back of the chair for 20 years. At the end of 20 years, donors will be given first right of refusal to renew. Seats will be selected in the New Year on a first-pledged, first-selected basis, meaning that the sooner you get your payment or pledge to us, the sooner you'll get to take your seat! All purchases are also eligible for a charitable tax receipt.
With just 247 seats available, don't get stuck standing!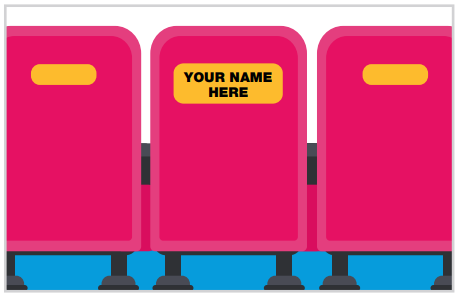 Testimonials
Why are Edmontonians taking their seat in the Muttart Theatre? That's easy!
"We strongly believe that a vibrant public library is a necessity for the well being of a community. Fortunately, Edmonton has a great public library. We contribute to EPL to support the continuation of its good work. We believe that a library theatre will be an important feature of EPL and we encourage others to sponsor the library theatre by 'taking a seat.'"
- Barry Schloss and Maureen Hemingway Schloss