Stanley A. Milner Library Revitalization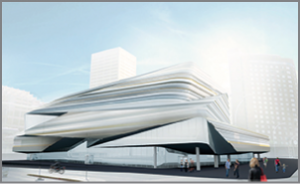 In the fall of 2014 City Council approved $62.5 million for the revitalization and renewal of the Stanley A. Milner Library with $52.5 million committed from the City of Edmonton and the expectation that $10 million come through community support and fundraising.
Opening in 1967 - and renamed in 1996 in honour of library champion Stanley A. Milner for his lifetime of commitment to EPL - this branch is the heart of EPL and downtown. The Milner library receives over 1 million visits each year from Edmontonians of all backgrounds and with a variety of interests. The revitalized downtown library will help build a thriving, vibrant downtown, and serve as a key component in Edmonton's economic prosperity.
Read more about what we have planned.
What's Next?
Between the fall of 2015 and spring of 2016 EPL will continue to reach out and gather feedback from the community to help shape the plan for the downtown library. A preliminary timeline for the road ahead is included below.
Timeline

Calder Branch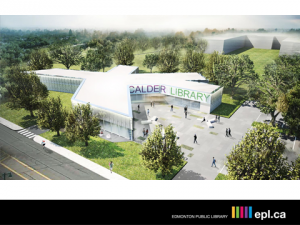 Since 1992, EPL's Calder Branch has served a diverse clientele of about 20,000 residents. The branch is in a small space in a strip mall at 12522 132 Avenue, and it doesn't meet the growing demands for study and community space.
We need to provide programming, adequate collections and the full range of services offered at other branches, so we're planning to relocate the Calder Branch from its current 5,330 sq. ft. space to a new 10,000 sq. ft. stand-alone LEED® Silver certified facility. Moving (and nearly doubling our size!) will achieve small community branch standards and meet the needs of an expanding, vibrant community.
The proposed location for the new Calder Branch is south of Wellington Junior High School, at the intersection of 127 Street and 131 Avenue. Close to the current location and easily accessible by foot, vehicles and public transportation, it's also exposed along 127 Street.
We're thrilled about this move because it supports the rejuvenation of surrounding neighbourhoods and will grow out partnerships with schools and community organizations.
One of the design goals of the new Calder Branch is to make an engaging space we can all celebrate, learn and be active community contributors. We'll have a welcoming forecourt with mineral surface, seating and designed planting. Super green garden spaces will be in the surrounding park area and extend the library into our backyard.
Other key features planned for the new Calder Branch include:
Larger community room, quiet study room and flexible program space
Collections that meet community needs
Comfy chairs, collaboration space and a central reading area complete with a fireplace. Yes, a fireplace.
Freshwater aquarium in children's area
Ample public parking with easy access and 24-hour book return
20 public computers with free Wi-Fi and three early literacy stations
Capilano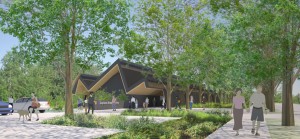 A new library complete with serene views and natural light will be a place Capilano residents can call their own come 2018. The new Edmonton Public Library Capilano Branch will be a ground-floor location at 6225 101 Avenue NW, which will help overcome accessibility challenges of the current site on the second floor of Capilano Mall. The new branch will serve approximately 167,158 visitors annually, up from 139,298 today.
Edmonton's Fulton Ravine will border the new library. The 60-meter wide forested area will divide the property into an east side facing 67 Street and a west side facing Terrace Road NW. Beyond the beautiful setting, visitors to the branch will have access to the ravine zone – a seated study space featuring the ravine as a backdrop. Community rooms with private and semi-private meeting and study spaces will also offer this view.
Other new features include:
- 24-hour material returns
- Ground-floor access
- Makerspace
- Quiet study room
- Larger community program room
As with all EPL building projects, we are targeting a minimum LEED Silver rating for this new location.  The use of sustainable building materials, proximity to public transportation and parking capacity are key factors that will contribute to the building's LEED rating.
Progress Updates
(March 20, 2016)
To help with traffic flow, a one-way street northbound on 67 Street between 99 and 100 Avenue will be converted to a two-way operation. This will take place prior to the start of construction, which is scheduled for late 2016.
To allow for safe and easy access to the site, a pedestrian-activated signal will be installed on the east side of the intersection of 101 Avenue and 67 Street.
Edmonton Parks has approved extension of the ravine naturalization to 101 Avenue, meaning trees will be added to the boulevard on 67 Street.
(Fall 2015)
EPL and the City of Edmonton have hosted two public information session about the new Capilano Branch. The latest one took place on Monday, June 1, 2015 where we wanted to gather feedback from the community, as well as share information about the project.  A report was produced to document what we covered at the meeting, including questions from residents and answers from organizers. Additional information has been available on EPL.ca and through the Community Librarian.
Lewis Farms
As part of its 2015-18 Capital Budget, Edmonton City Council approved $3.5 million for the design of the Lewis Farms Recreation Centre, Library and District Park.
The Lewis Farms Facility and Park was identified in the 2005-2015 Recreation Facility Master Plan and the Medium Term Recreation Facility and Sports Field Plan as a new recreation centre to be developed based on a growing Edmonton west suburban area.
Needless to say, we love collaborating with our city. This will be the third joint recreation and library facility between the City of Edmonton and the Edmonton Public Library. The first were the Clareview Branch and the Meadows Branch.
The Lewis Farms Community Facility and Park will serve a population of about 40,000 – 80,000 residents. The closest branch is the Lois Hole Library.
Based on consultation and early planning, the Lewis Farms Recreation Centre and Library will include: aquatic facilities, twin arenas, a fitness centre, jogging track, gym and multi-purpose spaces.
Share your thoughts on the new Lewis Estates Branch by completing this short questionnaire. We welcome your feedback and want this recreation centre to be as amazing as possible.