Jim Sellers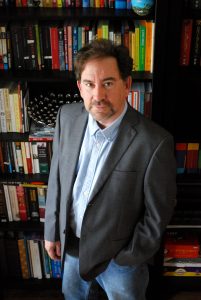 Even though Jim Sellers has been a professional writer for 20 years, he's just getting started.
He came from the field of television and film production, working behind the scenes in editing, camera and sound in drama, music videos, commercials and news. He started writing screenplays for TV drama and documentaries in 1994. His work includes Mentors, a series shot in Edmonton, and several projects with the National Film Board of Canada.
The switch to writing fiction came when he was a single dad and started reading the books his kids were into. The YA book industry was changing with the success of Harry Potter and other books that broke from the tradition of "classic children's stories." He remembered losing interest in reading fiction as a boy because most of the books available seemed too old and irrelevant to him. He began to make up his own stories to tell to his children. They challenged him to come up with more ideas, to create longer stories and answer the question "then what happened?" This became a nightly ritual and the ones that they asked to hear again, he wrote down.

The first of these stories, Jacky the Brave, was published in 2013. It took 10 years of pitching, editing and rewriting until the book was finally picked up by a small Ontario press. Another of the stories was originally written as a screenplay for a children's TV pilot, which won a screenwriting prize but has yet to be published as a book.
Jim has published several short stories on websites in the UK and one in a short story compilation published by the University of Alberta in 2016. His most recent YA novel, A Death of Cold, was launched in September 2017.
Jim has been working in Communications for not-profit organizations, government and universities. He wrote a number of articles for the University of Alberta's Computer and Electrical Engineering magazine and website, including one article that won a Silver Award for writing; and for the Faculty of Physical Education and Recreation, Alumni magazine. He also has an upcoming article in Write Magazine, put out by the Writers Union of Canada.
He has participated and moderated in panels at When Words Collide writers conference in Calgary and participated in the Surrey International Writing Conference.
When not writing, working, renovating the house or walking the dog, Jim is a musician with three original songs on iTunes and music streaming services.
To learn more about Jim Sellers please visit his website.
Don't forget to check out the list of Jim's books that are available at EPL and his recommended reading list.