Capital City Press is a gathering place, both digitally and physically, for the exchange of ideas and education on the craft of writing. It gives EPL the opportunity to showcase and promote notable work from within our community, while also giving Edmontonians a chance to discover fantastic local writers and discuss their creations. Capital City Press aims to help support and grow writing in the community.
Celebrating Musical Excellence; 50 Years of the Edmonton Youth Orchestra 1952-2022 will be released later this year. Set in small-town BC, her novel, Unravelling (Guernica Editions) was published in 2020. Josephine has written short pieces for several publications including Chirp Magazine (Owlkids) and BC's Northword Magazine, as well the anthologies, Swelling with Pride: Queer Conception & Adoption Stories (Dagger Editions) and Wherever I Find Myself: Stories by Canadian Immigrant Women (Caitlin Press). She has also created online content for the Edmonton City as Museum Project and the Yellowstone to Yukon Conservation Initiative.
Josephine Boxwell is a writer of fiction and nonfiction based in Alberta. Her first nonfiction book,
Don't miss Josephine's upcoming workshops which include Telling Local Stories on October 29 and Compiling 70 Years of Stories with the Edmonton Youth Orchestra on December 6.
Be sure to also check out Josephine's recommended reading list called Translating and Reimagining Ancient Tales which features examples of how writers have adapted ancient stories to make them more accessible to modern readers.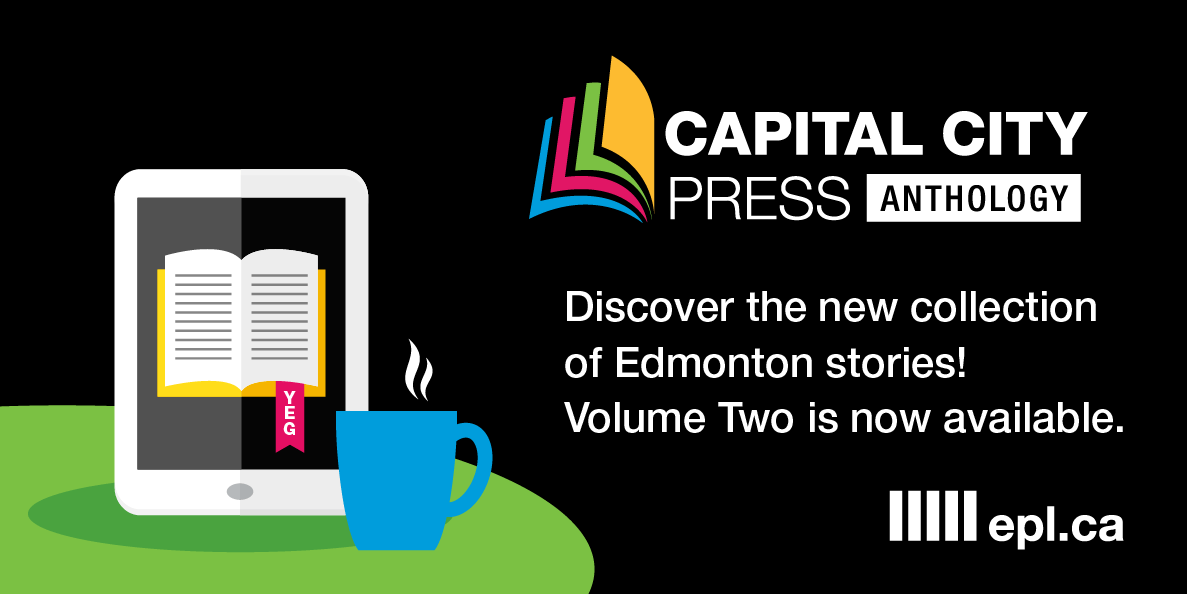 The Capital City Press Anthology is a new project from the Edmonton Public Library that publishes short stories, non-fiction, and poetry by local authors in a digital format. Our goal is to celebrate the creativity of our city and the Treaty 6 First Nations by providing opportunities for diverse, new, and thought-provoking voices to be heard. The 2021 Issue of the CCP Anthology is our first publication in this series.
Capital City Press Anthology Podcast
You can listen to all of the stories from the first volume of Capital City Press Anthology. New episodes are available bi-weekly on Apple Podcasts, Spotify, Google Podcasts and Stitcher.
Episode Ten includes Take This Noise by Carla Maj, Erased by Ashlynn Chand, Magic Mushrooms by Carleen Marie, and But For Now by Leslea Kroll.
Episode Nine includes Refuge by Yusra, Contactless by Kit Walker, What Happened that One Winter at the Cabin by Brandon Rhiness, and An Open Letter to the Gardener by Aila Faye.
Episode Eight includes Ancestral by Anna Pazakova, Ectopic by Danielle Leailleur, and True North? by Angele Espinaco-Virseda.
Episode Seven includes Winter by Barbara Baer Pillay, The Hurt We Cannot See by Josh Chartrand, A Study in Melancholy by E. Simon, and Gary, My Brother by John Buhler.
Episode Six includes Things I learned from attending seniors' aquafit classes by Alexis Kienlen, On God by Katherine Abbass, First Snows by Dolly Cepeda Montufar, and niskipîsim by Skye Haggerty.

Episode Five includes Curly Girly by Julie Marko, Saini by Rekha Kiran Poudel, By a Thread by Kelsey Jones, and three in the morning by Feven Worede.

Episode Four includes Thrall by Hannah Brown, Birthmark by Jennifer Bowering Delisle, and Sunrise from the perspective of a decaying skyscraper by Kyra Cusveller.

Episode Three includes Memories of YEG by Karen Hubbard, Little Boys Shop for that Perfect Present by Lori Kempf Bosko, Bibliotherapy by Lauren Seal and Home's Best by Zach Polis.

Episode Two includes When Books Burn by Dianne Harke, My Family's Garden by Medina Assiff, and The Empty Chair by T. A. Hunchak.

Episode One includes Genesis by Rita Espeschit, Short Shelf Life by Carissa Halton, A Perfect Circle of Light by Davis G. See, and Solos Into the Void by Kat Cameron.

Featured writers will host a variety of programs that are free for the community throughout the year. Annual events include the Capital City Press Book Festival and the Young Writers Conference.  
Event Card
Jan 30th | 7:00pm - 8:30pm
This month we will be reading My Brilliant Friend by Elena Ferrante. After the discussion you'll learn how to make delicious focaccia bread.
CCP - BiblioEvents Feed
Feb 8th | 7:00pm - 8:00pm

Online Event
Edmonton Literary Events
Do you have an upcoming workshop or reading that you would like to promote?
Submissions will be reviewed and added to the Edmonton Literary Events calendar below if approved. New postings to the calendar will occur weekly, so please plan to submit far enough in advance of your event.
EPL also provides access to databases and online libraries that include works by local authors. Check them out here.