The Queen's Gambit fans rejoice! Our online resource, Brainfuse HelpNow, opens a new window, is now offering live chess tutoring! They can help take you from learning the names of each piece to opening with a Sicilian Defense.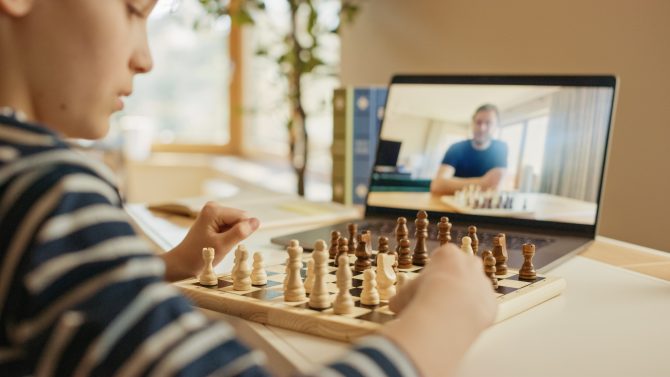 Chess has become a very popular pastime during the pandemic and interest has exploded with the new Netflix series, The Queen's Gambit. Brainfuse HelpNow, opens a new window has always been your homework helper committed to promoting learning and now they've added this fun activity to improve analytic and strategic thinking. Plus, you'll be taught by the best. All the chess tutors have certifiable qualifications such as high Elo ratings (2000+), chess coaching experience and current or previous titles (e.g. expert/candidate master).
Start Making Your Move
You can now find the live chess tutoring services on the homepage of Brainfuse HelpNow, opens a new window under the Expert Help column: 
When you click on the new Featured Services option, you will be taken to the live chess tutoring page, where you can connect with a Brainfuse HelpNow tutor or explore the chess tutoring resources that are available. If you choose to connect with a live tutor, it must be during the scheduled live tutoring time—between 12 p.m. and 11 p.m. MST every day:
If you choose to browse the other chess tutoring resources, you can learn about the Basics of Chess, tactics and strategy:
Or take a look at all of these great chess resources that you can borrow or stream for free with your library card!
---
All the Wrong Moves: A Memoir About Chess, Love, And Ruining Everything
Sasha Chapin's All the Wrong Moves is a love song to the game of chess. This memoir recounts Chapin's introduction to chess in high school, his marathon late-knight chess sessions, his journey around the world travelling to chess tournaments and his fixation on victory and winning the game. 
All the Wrong Moves is also available as a downloadable audiobook and an eBook from OverDrive.

Chess Openings for Dummies
This friendly and helpful guide provides readers with the easy-to-follow instructions we have all come to know and love from the For Dummies series. This title gives you all of the tools and techniques you need to know for analyzing openings and winning chess games. The illustrations help beginners and experienced players alike analyze their style and make the right moves to win the game.
Chess Openings for Dummies is also available as an eBook. 

Get Into Chess
Looking for a kid-friendly chess guide? Check out Rachel Stuckey's Get Into Chess. A kid-friendly book that covers the rules and strategies for chess with step-by-step photos. Listed at a Grade 3-4 reading level and peppered with fun chess facts, this title is the perfect way to keep kids from getting board. 

The Chess Queen Enigma
We also have lots of great fiction titles about chess, too! The Chess Queen Enigma by Colleen Gleason is a steampunk adventure of Evaline Stoker and Mina Holmes, sister to Bram Stoker and niece to Sherlock Holmes. The two check-mates find themselves chaperoning a princess, attempting to heal a centuries old rift between the countries of England and Betrovia and searching for a lost and mystical chess queen that will unlock a valuable Byzantine chessboard. 
The Chess Queen Enigma is also available as an eBook through OverDrive. 

The Flanders Panel
The Flanders Panel by Arturo Pérez-Reverte is a mystery about a fifteenth-century painting depicting the Duke of Flanders and his Knight locked in a game of chess. In the corner of the painting is a hidden inscription: Who killed the knight? When young art expert Julia discovers the inscription, she is determined to solve the mystery while somehow avoiding becoming a pawn in it herself. This thriller meets at the intersection of mystery and chess and is the perfect whodunit for chess beginners and pros alike. 
The Flanders Panel is also available as an eBook through OverDrive.

The World of Chess
If you are a The Great Courses fan, then this series is for you! The World of Chess, streamed through Kanopy, has 24 episodes covering everything from the humble pawn to the castled king. Learn about chess history, famous chess players, chess psychology and tactical moves. You will be a chess pro after watching this series—no rook-ie mistakes here!