Edmonton Public Library is partnering with the City of Edmonton to celebrate International Open Data Day 2018. We're calling all students, hackers, developers, designers, statisticians and anyone with an interest in open data to spend the day experimenting, learning and creating with open data!
Build your skills in hands-on beginner and intermediate/advanced workshops. Learn what kinds of open data-related projects and initiatives community groups, businesses, institutions and individuals are working on here in Edmonton and test your open data knowledge to win one of two awesome prizes!
Bring your laptops and we'll bring lunch!
Saturday, March 3rd, 9:30 a.m. to 4 p.m. (Doors open at 9 a.m.)
Edmonton Public Library, Enterprise Square Branch Makerspace
10212 Jasper Avenue
Edmonton AB T5J 5A3
Click here to register for International Open Data Day 2018 @ EPL
Workshops
Data Collection and Cleaning
Presented by John Simpson, Humanities and Social Sciences Specialist, University of Alberta / WestGrid / Compute Canada
This 90-minute hands-on workshop will walk participants through the process of acquiring a dataset and then cleaning that dataset so that it will be useful for data analysis and visualization.  We only have 90-minutes so we'll move quickly through the process and will not be able to cover all the use cases.  However, participants will get hands-on experience with the workflow as well as pick-up some best practices and some powerful tricks.
     Tools and Software:
Visualizing Open Data with Tableau Public
Presented by Karen Parker, Business Solutions Analyst, City of Edmonton
This hands-on workshop will cover the basics of using Tableau Public to create engaging interactive visualizations. It is recommended to review this very short list of pre-workshop tasks. Completing these in advance will make your workshop experience much smoother.
     Tools and Software:
Making Boring Charts Beautiful
Presented by Eugene Chen, Director, Darkhorse Analytics
You've seen boring charts. Some clearly "default" Excel bar graphs, ugly tables, and indecipherable pie charts. And you've probably seen memorable charts in presentations, weaved in as part of a compelling story driven by data. We will cover why people prefer certain charts and designs, and together we will improve an existing, typical-looking presentation. The goal is for you to come away with a much-improved version that you can reuse and reference for inspiration after the workshop, a version that you're happy to show off.
Tools and Software:
Excel/PowerPoint or Google Sheets/Slides
Web App Development in Python Flask
Presented by Usman Rizwan, Data Scientist, City of Edmonton
Learn how to create a simple web application using Python programming language with a data scientist! Bring your laptop and ideas.
Tools and Software:
Python 3.6 on Windows, no need to download anything on a Mac.
Lightning Talks
During these fast-paced you will learn more about fellow open data enthusiasts and their projects, work and interests in Edmonton. This year, we are happy to feature the following presentations
The Alberta Open Government Portal: An Introduction – Kirk MacLeod
Data Looks Better Naked – Eugene Chen
DADA-Data: Data Beginnings at The Works – Betty-Jo McCarville
Data for Good Edmonton – Bryan Jackson
Data Carpentry in Edmonton – John Simpson
BetaCityYEG: Civic Technology Projects in Edmonton – David Rauch
Data as a Service: Leveraging the Complexity of Open Data – Fahim Hassan
City of Edmonton Open Data and Smart City – Susan Copeland
Data Jeopardy
In this  fun and interactive trivia game you will have the opportunity to win one of two prizes:
1st Place - littleBits Star Wars Droid Inventor Kit
This toolkit comes with all the magnetic building blocks needed to build and customize a fun and functional app-enabled R2D2 droid. Once built, your R2 can dance, stand guard, snap selfies, deliver gifts, and much more.
2nd Place - Sphero Mini
Sphero Mini packs tons of fun into tiny, app-enabled robot about the size of a ping pong ball. Drive, play games, learn to code, and more.
Schedule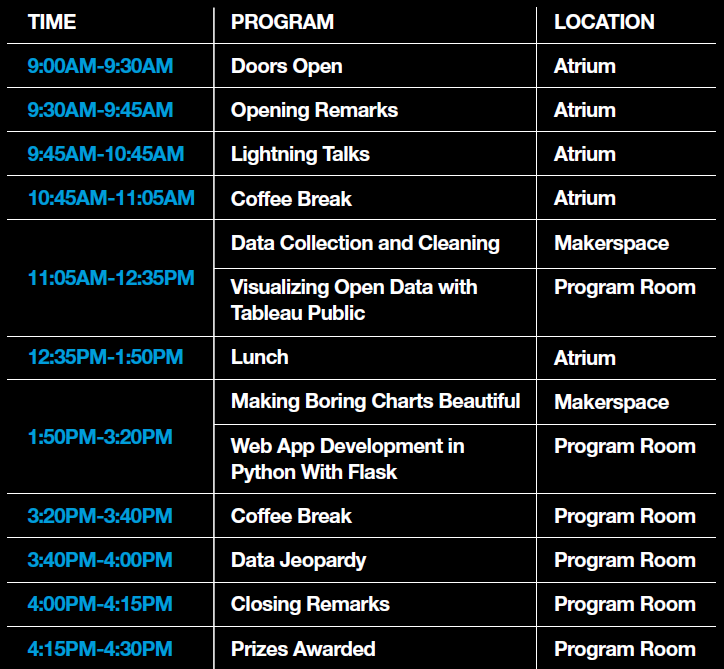 We are proud to partner on this event with the City of Edmonton.