EPL helps grow engaged, passionate learners.
Curious, sharp and always learning.
In May 2010, Edmonton City Council officially declared Edmonton a city of learners. Who better to lead the way than EPL?
Learning cities are smarter than your average town. They understand the importance of having diverse learning opportunities available for all residents, and they know that engaged, passionate citizens want to make their city better.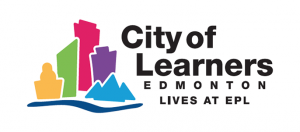 "We have outstanding learning opportunities in our city, but we need to help more people take advantage of them. When we all embrace learning in our daily lives, it enhances our role in the community, our performance in the workplace as well as our personal development and physical well-being."
- Mayor Don Iveson, founding chair of the Edmonton Learning Initiative
The initiative started in 2008 when a group of learning sector partners came together to look at the opportunities in Edmonton and examine what was happening in other learning city projects around the globe. Canadian cities like Vancouver, Fredericton and Grande Prairie also have learning community initiatives which have contributed to enhanced livability, a key plank of Edmonton City Council's vision.
Learning cities take a holistic view of learning. The United Nations Educational, Scientific and Cultural Organization (UNESCO) describes learning through four pillars: learning to know; learning to do; learning to be; and learning to live together.