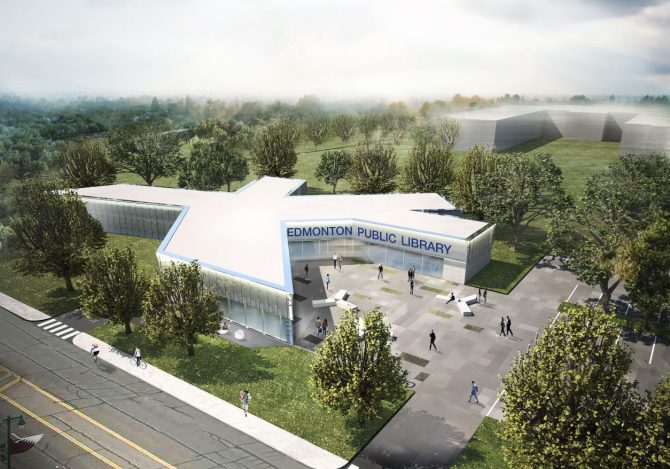 Since 1992, EPL's Calder Branch has served a diverse clientele of about 20,000 residents. The branch is in a small space in a strip mall at 12522 132 Avenue, and it doesn't meet the growing demands for study and community space.
We need to provide programming, adequate collections and the full range of services offered at other branches, so we're planning to relocate the Calder Branch from its current 5,330 sq. ft. space to a new 10,000 sq. ft. stand-alone LEED® Silver certified facility. Moving (and nearly doubling our size!) will achieve small community branch standards and meet the needs of an expanding, vibrant community.
The proposed location for the new Calder Branch is south of Wellington Junior High School, at the intersection of 127 Street and 131 Avenue. Close to the current location and easily accessible by foot, vehicles and public transportation, it's also exposed along 127 Street.
We're thrilled about this move because it supports the rejuvenation of surrounding neighbourhoods and will grow out partnerships with schools and community organizations.
One of the design goals of the new Calder Branch is to make an engaging space we can all celebrate, learn and be active community contributors. We'll have a welcoming forecourt with mineral surface, seating and designed planting. Super green garden spaces will be in the surrounding park area and extend the library into our backyard.
Other key features planned for the new Calder Branch include:
Larger community room, quiet study room and flexible program space
Collections that meet community needs
Comfy chairs, collaboration space and a central reading area complete with a fireplace. Yes, a fireplace.
Freshwater aquarium in children's area
Ample public parking with easy access and 24-hour book return
17 public computers with free Wi-Fi and three early literacy stations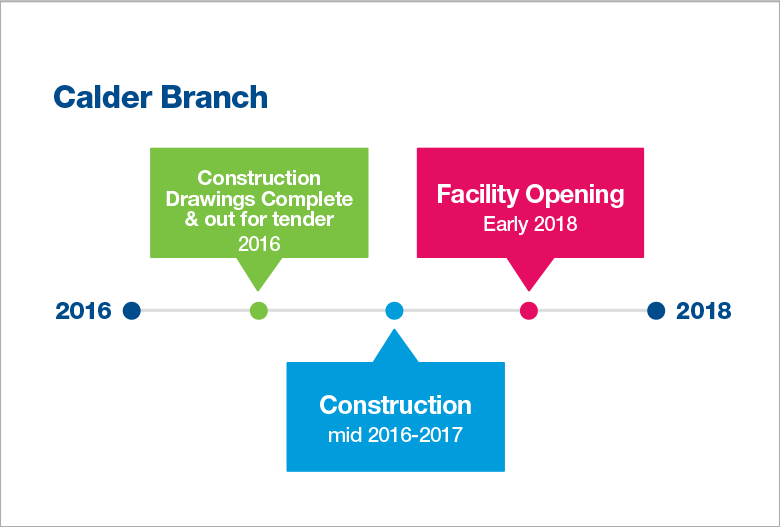 Construction is well underway and the building is starting to show some of the beautiful features EPL customers in the Calder area will soon enjoy including large windows for natural lighting. Take a sneak peek at the construction photos taken in the summer of 2017.