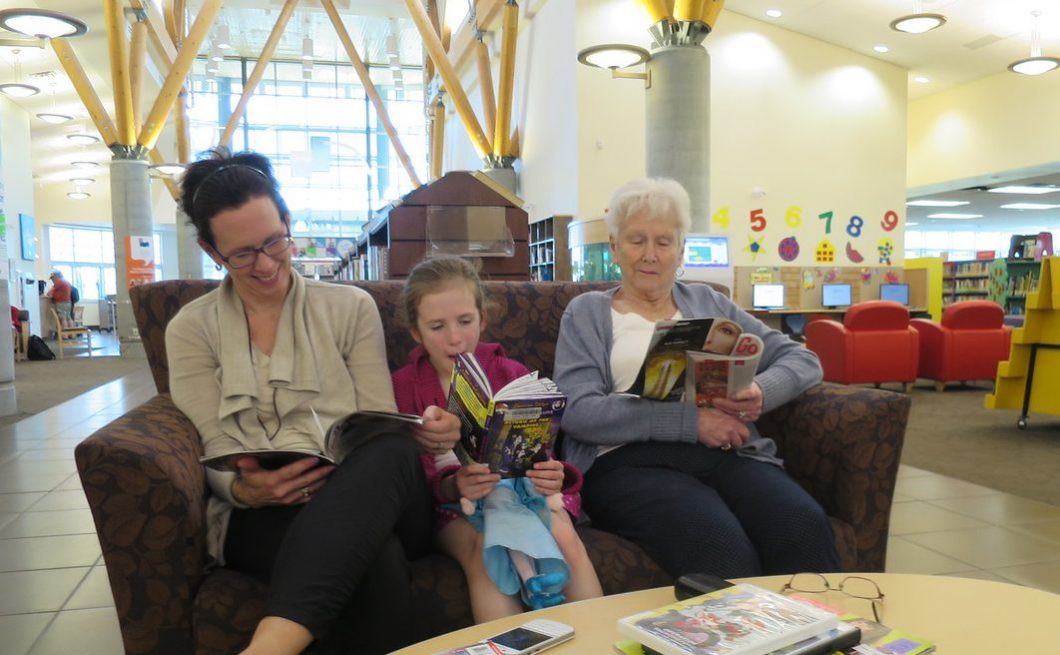 Strong mother-daughter relationships, coming-of-age tales, important life lessons and laugh-out-loud humour—these picks have them all!
We've put together a list of our staff's favourite books that have been read by mother to child over their family's generations. Check one (or all) of them out to read with your grandmother, mother or child(ren) in your life.
A 2017 Alberta Reader's Choice Award finalist, Art Lessons tells the story of Cassie, an artist in a family of sports enthusiasts, from age seven to eighteen. Read in her own voice how her Polish grandmother, Babci, serves as a guide on Cassie's path to becoming an artist.
Art Lessons is available as a book and ebook.

EPL Staff Recommendation: "The book itself depicts a strong grandmother/ granddaughter relationship (as well as a few mother / daughter ones). And the author has been in mother / daughter book clubs with some of her daughters." — Katherine Bateman, Library Assistant at Whitemud Crossing
Winner of the 2016 Newbery Medal, Last Stop on Market Street follows a young boy named CJ on a bus ride across town with his grandmother. On this journey, he learns to appreciate the beauty in everyday things.
Last Stop on Market Street is available as a book.

EPL Staff Recommendation: "[I]t always reminds me of the relationships my children had with their grandparents. Going places together, sharing, talking and most of all discussing things. They learned so much from the everyday adventures from their grandparents, just like CJ." — Ilona Storie, Collections Librarian in the Collections, Management and Access Division
If you liked the movie, you should definitely check out Kevin Kwan's debut novel. Crazy Rich Asians tells the story of three super-rich Chinese families and the drama that occurs when Nicholas Young—heir to a massive fortune—brings his American-born Chinese girlfriend, Rachel Chu, home to meet his family.
Crazy Rich Asians is available as a book and audiobook CD.

EPL Staff Recommendation: "My family speaks Hokkien (or Fukienese) and this was the first time I had ever read a book in English in which our dialect is mentioned and spoken. The footnotes that explain all the words in various Chinese dialects are gold, and I always laughed about them with my mom and grandma. [...] There are plenty of warm and fuzzy mom narratives in the book as well!" — Angela Lieu, Youth Services Librarian at Lois Hole
Snarky humour abounds in this author's third memoir. It's not only about her decision to lose weight, but about how being overweight is a societal issue that cannot be fixed through positive self-esteem alone.
Such a Pretty Fat is available as an ebook.

EPL Staff Recommendation: "It's a hilarious read, and something [my mother, grandmother and myself] really enjoy reading and talking about. If you need a laugh, and a little inspiration (from a trainer named Barbie), I absolutely recommend it!" — Joshua Carr, Library Assistant at Sprucewood
Claire Randall has a husband in one century and a lover in another. Transported back in time to the war-torn Scotland of 1763, she becomes "torn between fidelity and desire."
Outlander is available as a book, 20th anniversary edition book, ebook, downloadable audiobook and audiobook CD.

EPL Staff Recommendation: "In the pre-eBook era, my Mum, aunt, Nan and I passed along and swapped very well-loved copies of Diana Gabaldon's Outlander series for years (at least one has no cover!). [W]ith the ongoing TV series it's always a discussion topic when we're chatting or visiting with each other." — Quincy Hiscott, Licensing and Collections Assessment Librarian in the Collection Management and Access Division
A classic tale of the four March sisters—Meg, Jo, Amy and Beth—and their adventures growing up in New England.
Little Women is available as a book, ebook, downloadable audiobook, streaming audiobook and audiobook CD.

EPL Staff Recommendation: "My grandma read it to my mom and my aunt, and then all three of them shared it with my sister and me. I loved it so much that it was the first full novel that I finished on my own after learning to read." — Sydney Tordoff, Marketing and Fund Development Coordinator in the Fund Development Division
---
Whatever you and your mom like to read, we've got something for you! Books, eBooks and Audiobooks—the choice is yours.