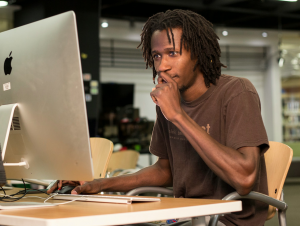 Gone are the days when you could only learn something new or take a course in person. With thousands of online resources available at your fingertips, learning a new skill or enhancing your knowledge has never been easier! Better still, having a library card with EPL, opens a new window gives you the opportunity to enjoy these resources for free! It doesn't get much better than that.
To help get you started, here are 11 incredible websites to begin learning something new or enhance your professional development skills:
---
LinkedIn Learning – Choose from over 13,000 online courses taught by recognized industry experts and speakers with topics in business, software, technology and creative skills. Simply log in with your library card and PIN!
Mango Language Learning – Choose from 48 different languages. Create a profile to track your progress and let the learning begin.
Muzzy: Language Learning for Kids – Muzzy is the world's #1 language course enjoyed by families and language beginners from preschool through elementary school. Popular languages include English, French, Spanish and Mandarin Chinese, among others.
Gale Courses – Begin training with interactive, instructor-led online courses covering a wide range of topics. Cardholders can sign up for a maximum of three courses per year from January to December.
Brainfuse – Learning support is available for students from kindergarten to Grade 12, and there is support for university courses, adult learners and professional development as well.
Learning Express Library - Practice tests and tutorial courses to help you succeed with academic or licensing exams such as computer skills training, GED high school test prep and career occupation assessments.
Road to IELTS (General Edition) – Develop the skills needed to pass the IELTS (International English Language Testing System) as well as general social and workplace communication. This is especially helpful for those who are going to English-speaking countries to do secondary education, work experience or training programs. (The Academic Edition of Road to IELTS is also available.)
O'Reilly for Public Libraries – Learn programming skills for Java, C#, ASP.NET, MySQL, Ruby, web development and gaming. Safari also offers consumer technology training for Microsoft Office products, digital photography, social media, PC maintenance, and more.
Cypress Resume – This easy-to-use resume writing tool allows cardholders to choose from more than 100,000 professions and 18,000 ready-made statements and job titles by industry to create a professional-looking resume in minutes. Custom cover letter and reference sheets can also be created.
EBSCO eBooks – Access thousands of helpful eBooks on a variety of popular do-it-yourself and other non-fiction topics. Sample topics include travel, biographies, relationships, golf, gardening, and so much more.
Canada In Context – Discover reference material for teens that is focused on the Canadian perspective! Canada In Context contains full-text magazines, academic journals, news articles, primary source documents, images, videos, audio files and links to vetted websites.
Begin your learning journey today!