Can you imagine a house without books? For many children in Edmonton this is their reality. The Edmonton Public Library provides amazing spaces, resources and classes that support early literacy, but many families still face barriers that impact their ability to fully use everything the library makes available. The global pandemic has made access even more challenging.
Ready. Set. READ! is a new EPL initiative in partnership with Dolly Parton's Imagination Library. It will deliver new books to children every month from birth to age five. These books are theirs to keep forever — for many children, this will be the first book they have ever owned. Support Ready. Set. READ! by attending An Evening with Eric Klinenberg. Tickets on sale now.
A child's love of reading starts at home. Parents are their children's first teacher. Research shows programs that place books in children's homes are an effective tool in supporting early literacy.

The first five years of a child's life form the foundation for their development and learning, which impacts a child's academic, economic and social success. Every experience matters, shaping their brain and capacity and attitude toward learning.
Ready. Set. READ! will be delivered in partnership with Dolly Parton's Imagination Library, opens a new window, a successful book-gifting program that provides children one book a month from birth to five years old.
Ready. Set. READ! supports families in building strong foundations of literacy and learning that will deepen their relationship with reading and the Library.
Every month, we send one age-appropriate book to your family's house by mail. Each book is personalized with your child's name and is selected by experts to meet your child's development needs.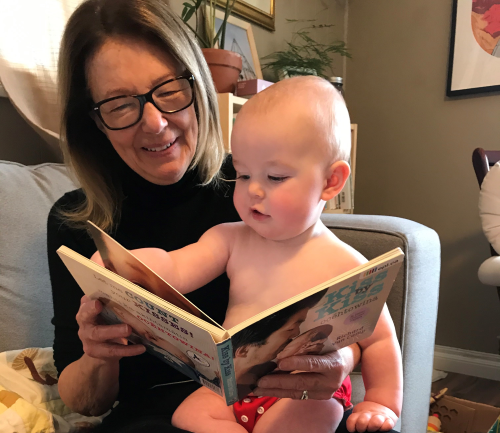 Ready. Set. READ! is delive
red in partnership with the Dolly Parton Imagination Library.
Dolly Parton's Imagination Library of Canada is a free book gifting program devoted to inspiring a love of reading in the hearts of children everywhere. Operating since 1995, it currently distributes over 1 million books each month to children around the world. To learn more visit the Imagination Library.
Online
By Mail
Fund Development
7 Sir Winston Churchill Square NW
Edmonton AB T5J 2V4
Printable Donation Form
By Phone
587-588-9034
Visit a Branch
Frequently Asked Questions
While EPL core operations are funded through the City of Edmonton, some emerging programs and initiatives are funded through donations. EPL's donors' generosity has helped support past projects such as the Welcome Baby program, epl2go literacy vans, and the revitalization of the Stanley A. Milner Library. 

Yes, tax receipts are issued for gifts over $20 once the donation has been processed.   

EPL is a responsible and accountable steward of public funds. With your donation, we hope to raise $1,000,000 by the end of 2021 with fundraising costs of 20%.

Donations from this year's campaigns will be used to support EPL's priority projects which will provide learning and literacy resources to help meet our community's growing and diverse needs. The Edmonton Public Library is incorporated in Edmonton, Alberta and our central branch is located at 7 Sir Winston Churchill Square, Edmonton AB T5J 2V4. Please reach out to our Fund Development team at 587-588-9034 or give@epl.ca for more information.

Yes, you can donate in memory or honour of a loved one on our online form here. All donations in memory or in honour will be included in our annual report.