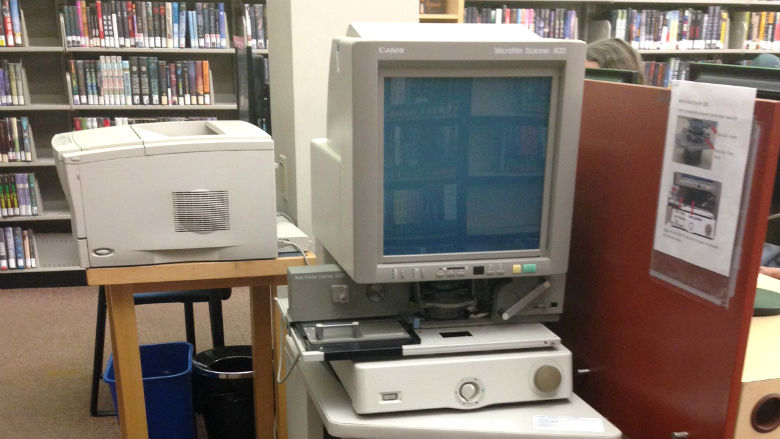 Want a blast from the past?

EPL's Tracing your Family Tree brochure can help you search for your family's vital records, census records, and passenger and immigration records.
You can also try the Getting Started with Genealogy resource of "how to" books.
We also have an invaluable guidebook for our genealogy collection. There are both circulating and reference copies for you to view or take home:
Genealogy Reference Sources at the Edmonton Public Library
A Guide to the Stanley A. Milner Library Collection
By Joseph Rek (2001)
EPL's Heritage Collection
Start searching.
Located in closed stacks at Enterprise Square (Downtown), EPL's print Heritage Collection is a special, non-circulating collection of almost 10,000 titles focused on the history and development of Edmonton and northern Alberta.
Closed stacks are special storage areas that are no accessible to the public. Customers can still view the books by making a request for an item from the stacks with a staff member at the customer service desk.
Customers will search for the title they are interested in BiblioCommons, give the item information (title, author and call number) to the staff member, who will retrieve the item and allow it to be viewed in the library.
You'll find a wide range of genealogical materials for researching family roots and local histories.
Our collection includes:
Family histories and the histories of northern Albertan ethnic groups
Business histories and histories of local organizations
Histories of northern Albertan schools, churches, and communities
Early Edmonton city directories
Guidebooks, vital and census records, passenger lists, and historical gazetteers
Works relating to immigration, settlement, pioneer life, politics, and government
Programs of performances and festivals
Resources
Obituaries
Obituaries can provide good information for genealogical research. Most newspapers, such as a the Edmonton Journal, provide online tools for searching their archives. EPL does has obituaries on microfilm available at the Whitemud Crossing Library (from 1903 to present).
EPL also has application to locate the date an obituary that was published in the Edmonton Journal and several other local newspapers, between 1950 - 1982.
Maps
EPL's Genealogical Maps Collection (located at Whitemud Crossing Branch).
Books, DVDs and more
Hand selected by subject experts to make your life easy.