The revitalized Shelley Milner Children's Library is opening on Thursday, Sept. 17 and one of the amazing new features is a stunning mural by Edmonton artist, Ricardo Copado. Learn more about the artist, the mural and how local kids have a chance to be featured in our new children's gallery!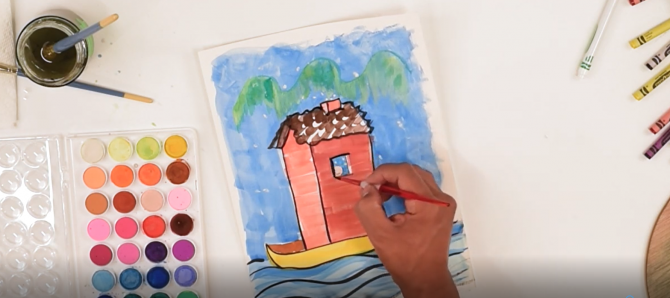 Get to Know Ricardo
We sat down with Ricardo and asked him a few questions about his work and the inspiration behind the Shelley Milner Children's Library mural. 
1. How would you describe your job?
I'm a painter and visual artist, but I've also worked as an art instructor in schools, curator, sacred art restorer and as an illustrator.
2. When did you decide to be an artist?
I was 13 years old when I decided to become a painter. I'd always been interested in art, culture — anything creative — so I enrolled in my first painting class at five years old. Soon after, I received my first art award, which inspired me to keep painting. I graduated from the University of Guadalajara with a Bachelor Degree in Fine Arts before starting to show my own work in Mexico and then Canada.
3. What are your major influences?
My artwork is influenced by nature and the environment around me. Often, I become fascinated and intrigued by objects or elements in my surroundings. As I think about these elements in depth, they get incorporated into my subconscious and imagination until they ultimately appear in my art. What appears is the element transformed in a surreal way that is influenced by what is happening in my life and the larger world around me.
4. How has moving to Canada influenced you?
Moving from Mexico to Canada has influenced, challenged and changed me in a profound way and is a theme that has been influencing my life — and art — for the last several years.
Most recently, my art has been inspired by the scenery, wildlife, traditions, legends, history and places in Canada, while still maintaining a connection to the Mexican roots that nurtured and boosted my creativity for so many years. As a result, my recent work is a fusion of both Canadian and Mexican influences with themes related to migration, home, change, adaptation, renewal, sense of place and finding happiness in new surroundings.
5. You created the new mural in the Shelley Milner Children's Library. Had you done this type of project before?

Yes! I've been commissioned to create murals for both private spaces and public buildings, but this was my first Library. I've also worked as a children's illustrator and an art instructor to young children, both of which helped in the creation of this piece.
6. What was your approach to the new mural in the Children's Library?
I incorporated the natural world that exists in Canada, but also included traces of history, geology, flora and fauna, science and urban and natural landscapes that children often see in their surroundings and wonder about. Each panel symbolizes a particular story, but all the pieces are connected to create one larger story that represents the inside of a child's vibrant and vast imagination. Those who interact with this public space will undoubtedly have many questions about why certain images and scenes were depicted and what it all means. There is no right or wrong answer to this question — the answer can only be found in the viewer's own imagination and soul.
The vibrant contrast of colors and the puzzle design also serve to attract the eye, welcome the public into the Children's Library space and create a pleasant atmosphere.
7. What do you hope visitors take away from this piece?
The mural is an experience for all community members and visitors to enjoy, while inspiring them to create other worlds within their own imaginations. This process of imagining and dreaming sparks creativity and inspires an interest in all the joy and wonder that can be found in the Children's Library.
My hope is that the mural takes the viewer to other places, different worlds and other times, and then relate and interpret these in a way that is meaningful to him or her — just as a library book can do when you take it in and find meaning in your own way.
Calling All Kids!
Do you know a creative kid? Don't miss this chance to have their art featured in our children's gallery at the Shelley Milner Children's Library. The criteria is simple: all artwork must be suitable for hanging on a wall. We're taking submissions until Monday, Sept. 14 and there are there are multiple drop-off points throughout the city.
Need some inspiration first? Watch as Ricardo demonstrates how you can turn everyday objects into a beautiful watercolour painting.