Open a world of possibilities with daily reading, talking, singing, writing and playing time with your baby. EPL's Welcome Baby program provides powerful early literacy resources for your baby's happy and healthy early development.
Visit any Public Health Centre in Edmonton for your baby's two-month immunization and receive a free Welcome Baby kit, which includes: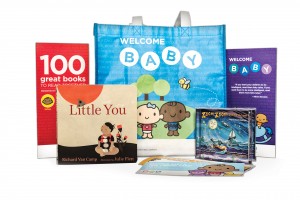 A board book by a Canadian author
A music CD by Kathy Reid-Naiman
A tote bag
Other great early literacy resources such as the Daily 5 Literacy Tips brochure
Start them Early - Babies Get A Free Library Card
Open a world of possibilities, get your baby a card at any EPL location. Children birth to 36 months of age also receive:
Bring Your Baby to the Library
Help your baby become an early active learner with books, music, culture and play.
Our fun-filled, drop-in early literacy programs run at every EPL location and help parents prepare babies for a lifetime of learning.
Discover our early literacy programs. Bring your little one to Baby Laptime, Sing, Sign, Laugh and Learn and Family Storytime. And it's all free.