Are you an avid singer, musician, podcaster or just someone who loves quality sound? Check out our recording studios located at the Stanley A. Milner Library and Whitemud Crossing Branch. We have a variety of spaces, equipment and editing software to take your project to new heights.
Before You Visit
All customers 12 and over must fill out the waiver before accessing our Recording Studios. Those under 18 must have a parent or legal guardian fill it out on their behalf.
We have four audio production studios available—three at the Milner Library Makerspace and one at our Whitemud Crossing Branch.
All our studios have a unique recording quality and are ideal for different types of projects. Each is equipped with an iMac, an audio interface, monitors and a MIDI controller keyboard. Each location has a collection of instruments and other equipment available for customers to use during their studio sessions as well.
What do I need?
EPL 

Library card

Other card options

are accepted

A Makerspace waiver is required for studio use.
Customers will need to complete our studio certification.

Completed by a staff member when you arrive for your first booking.

Recommended for ages 12+

Children under 12 will need to be accompanied by a caregiver who has completed the training and certification.
How to book a studio
Call ahead to book a studio space at our Stanley A. Milner Library Makerspace or Whitemud Crossing Branch.
What to know when I arrive?
Please arrive on time. Booking slots are limited. Bookings are held for 15 minutes before being made available to the next customer. If you are running late contact Makerspace staff by phone (780.944.5342) or Whitemud Crossing staff (780.496.1822). 

 

Before entering the studio, wash your hands and inform staff that you have arrived. 

 

Our staff will then do a check-in with you to make sure the studio and equipment is working and ready for use.

 

If you'd like assistance with any setup, let us know! 

 
Interested in visiting one of our recording studios? Learn more about each studio and the equipment available.
Small Studio
The Milner Makerspace Small Studio can be used by 1-2 people.  
It is ideal for soloists, duets, podcasters, production, mixing/mastering, poets, spoken word, voice actors, DJs and synthesizer enthusiasts.  
It can be used as a vocal booth for the Medium Studio. 
Medium Studio
The Milner Makerspace Medium Studio is optimal for two people, but can fit three if needed. 
It is ideal for small groups, mixed instruments, mixed vocal and instrument recordings, podcasters, production and mixing. 
This studio can be used as a control room for the Small Studio, and features a 49 key MIDI controller. 
Large Studio
The Milner Makerspace Large Studio is optimal for three to four people, but can accommodate five. 
It is ideal for dynamic vocal work, musical groups, band rehearsals, drummers and pianists. 
This studio features an electronic drum kit and an 88 key MIDI controller. 
Whitemud Crossing Studio
The Whitemud Crossing Branch Studio is optimal for one person, but can accommodate two people.  
It is ideal for soloists, duets, podcasters, production, mixing/mastering, poets, spoken word and voice actors.  
This studio features an acoustic guitar, an electric guitar and a ukulele.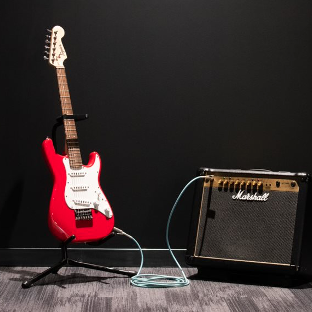 Instruments
, 
C
ontrollers
and Accessories
We have a wide selection of guitars, amps, MIDI controllers and more available at Milner Library for customers upon request.
Each studio includes access to Audacity, Garageband, Logic Pro, Ableton Live and FL Studio. Learn more about these digital audio workstations (DAWs). 
FAQs
Each customer who would like to book an EPL studio must complete a studio certification. A staff member will certify you at the beginning of your first booking. They will explain the booking procedures, check-in/out procedures, studio guidelines, give you a tour of the studios and answer any questions you might have. This should take 10-15 minutes. 

Our studios are very popular so we recommend booking ahead of time.

Milner Recording Studios 

Call or email the Makerspace team (780.944.5342, makerspace@epl.ca), or make a booking in person. You will need to have your library card number handy when you make a booking. Our bookings are two and a half hours long except on Saturday and Sunday. We have built gaps between bookings into our schedule to allow for enhanced cleaning measures. Customers can have a maximum of two and a half studio bookings in the booking system at one time.

Milner Studio Booking Times

Monday
Tuesday
Wednesday
Thursday
Friday
Saturday
Sunday

9:30 a.m. – 12 p.m.

12:30 p.m. – 3 p.m.

3:30 p.m. – 6 p.m.

6:30 p.m. – 9 p.m.

No operation
No operation

9:30 a.m. – 12 p.m.

12:30 p.m. – 3 p.m.

3:30 p.m. – 6 p.m.

6:30 p.m. – 9 p.m.

9:30 a.m. – 12 p.m.

12:30 p.m. – 3 p.m.

3:30 p.m. – 6 p.m.

6:30 p.m. – 9 p.m.

9:30 a.m. – 11:30 a.m.

12:30 p.m. – 2:30 p.m.

3:30 p.m. – 5:30 p.m.

1:30 p.m. – 3 p.m.

3:30 p.m. – 5 p.m.

Whitemud Crossing Recording Studio 

The Whitemud Crossing Studio can be booked over the phone (780-496-1822) or in person. This studio is available every day during opening hours and can be booked for up to two hours at a time.

| | | | | | | |
| --- | --- | --- | --- | --- | --- | --- |
| Monday | Tuesday | Wednesday | Thursday | Friday | Saturday | Sunday |
| 10 a.m. – 9 p.m. | 10 a.m. – 9 p.m. | 10 a.m. – 9 p.m. | 10 a.m. – 9 p.m. | 10 a.m. – 6 p.m. | 10 a.m. – 6 p.m.. | 1 p.m. – 5 p.m. |

 

The studios can be booked by anyone who is at least 12 years old with a valid Edmonton Public library card. Many alternative card options are available for students and residents of surrounding communities.

Children under the age of 12 may use the studios with the supervision of a caregiver or guardian. A caregiver or guardian must book the studio with a library card and must complete the studio certification.

Customers must complete an in-person Studio Certification with Makerspace staff at the beginning of their first booking.