Thank you to our generous donors, who ensure the EPL Gala features an amazing array of packages and experiences up for grabs. Get ready to place a bid on these terrific items: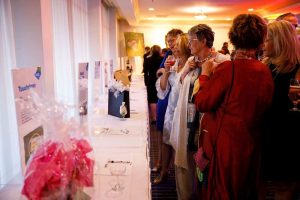 #
Title
Package Description
1
The World is Your Oyster
Planes and trains, oh my! Take flight with this WestJet roundtrip voucher for two guests to any regularly scheduled WestJet destination in the world. Plus, stay grounded with a $1,000 gift certificate from VIA rail (some restrictions apply).
2
Game of Thrones
Proudly donated by Allwest Commercial Furnishings, you will not be dethroned in this multi-award winning Zones armchair and matching ottoman designed by PearsonLloyd in conjunction with Teknion.
3
Local Love
Enjoy everything Edmonton has to offer with this private Tour and Taste for 15 people from Strathcona Spirits Distillery, a $500 gift certificate towards family portraiture from renowned photographer Fred Katz, two original art pieces from DWLKRL, and a custom jewelry piece from Orange Avocado.
4
WEM in Edmonton…
Act like a tourist in your hometown with an adventure for the whole family! This West Edmonton Mall attraction package features a year-long Family Multiplay Pass.
5
Rocky Mountain Road Trip
Enjoy an indulgent weekend getaway with two nights' accommodation at the Fairmont Jasper Park Lodge, including weekend use of a luxury Lexus from Lexus of Edmonton to get you there in style.
6
Library Lovers Night Out
Enjoy a special evening featuring a multi-course catered dinner (including wine!) and lively conversation with EPL CEO Pilar Martinez, EPL Board Chair Brian Heidecker, academic and politician Anne McLellan, and businessman Marc de La Bruyère. You and five of your friends will join this dynamic foursome at the welcoming home of Brian Heidecker and Donna Bagdan, surrounded by original artwork and a plant conservatory. 
7
Staycation
Explore Edmonton with two nights' accommodation (breakfasts included!) for two at the Fairmont Hotel Macdonald. And don't worry, suppers are covered as well! Your stay is perfectly paired with a Chef's dinner for two: a three course menu with wine pairing at LUX Steakhouse & Bar 94 (gratuity not included) and an $80 gift certificate for Buco.
8
Where There's a Will…
Katherine Faught of CBM Lawyers will help you and your spouse plan for the future with consultation and legal advice regarding requirements for estate planning documents, and preparation of a Will, Personal Directive and Enduring Power of Attorney (some restrictions in the case of particularly complicated estates). 
9
I'm Hoppy and I Know It
Cheers for beers with seven of your friends at a dinner for eight at Biera, followed by a brewery tour at Blind Enthusiasm.
10
Whisky(ed) off Your Feet
Enjoy a hosted workshop featuring a tasting of six of Vine's favourite Scotch whiskies with 14 friends at Vines - Riverbend Wine Merchants. And what's booze without food? Your tasting package includes catering from Sawmill Catering Services. 
11
Golden Ticket
Think Forward and live large! This package includes signed books from Joseph Boyden and Reza Aslan, an autographed football from rugby superstar Jen Kish, and two premium Library Lover tickets to every EPL Speaker Series event in 2019. Past speakers include Lieutenant General Romeo Dallaire, Marie Henein, Hon. Kim Campbell, and George Takei.
12
Shop 'til you Drop
Plan a downtown getaway with a night at the Chateau Lacombe Hotel on the Concierge Floor (Sunday brunch for two at La Ronde included!) and a $500 gift certificate to spend at the shops of City Centre Mall.
13
Milner Memory
Take a piece of the new Stanley A. Milner Library home with this commissioned, limited edition (#24/30), framed Jason Blower original.
14
Wine and Dine
How merlot can you go? Treat yourself and five of your friends to this indulgent dinner at Workshop Eatery's Chef's Table, including a four course meal and wine pairings (gratuity not included).
15
Star Studded Supper
Want to know what Michelle Obama is really like? Dreamed of doing Carpool Karaoke with James Corden? Hear all about this and more at a dinner for four people hosted by Zainul and Ashif Mawji, local entrepreneurs and business leaders, in their impressive home.
16
I Heart YEG
Show your Edmonton pride with this curated package from local artists and artisans. Items include a stunning solid walnut serving board from Oliver Apt, custom jeans from Arturo Denim, two classic Unbelts, a chic bottle opener from Hunt Amor, and a $100 gift certificate from the Alberta Craft Council.
17
Grill 'n' Chill
Celebrate a September summer with a Grill Chef BBQ from The Brick, $100 gift certificate for seafood from Ocean Odyssey Inland, and a certificate towards two flats of beer from our friends at Alley Kat. Party on!
18
Shine Bright Like a Diamond
Recently appraised at $500 and generously donated by Elexis Schloss, this Boccati Diamonds men's wristwatch will keep you on time (or fashionably late!).
19
Hockey Night in Edmonton
We've got you covered, hockey fans! Enjoy a pair of club seats for the Edmonton Oilers game against the Minnesota Wild on Tuesday, Oct. 30, 2018 courtesy of National Oilwell Varco, as well as a gift basket of goodies from Atlas Steak + Fish in the Grand Villa Casino (including $200 in gift certificates) to fill up on a delicious meal before the puck drops.
20
Loco for Cocoa
Who doesn't love chocolate? Indulge in a basket of premium delicious treats from local chocolatier, The Violet Chocolate Company. Treating yourself never tasted so good! 
21
What a Smart Cookie
Feed your body and soul with a cookie-of-the-month package (1/2 dozen cookies each month for one year from January to December 2019) from Cookie Love Cafe, a beverage basket (coffee, tea and iced drinks) from Tea and Coffee Company, and a literary lovers paradise package donated by Library Services Centre (The Walking Dead: The Complete Fifth Season 5 disc set,
The Bone Tree by Greg Iles, Yum & Yummer: ridiculously tasty recipes by Greta Podleski, and Marvel's Monster's Unleashed by Cullen Bunn).
22
You're a Gem
Recently appraised at a combined value of $400 and generously donated by Elexis Schloss, this Sterling silver gem-set bracelet and earrings will have you sparkling from a mile away.
23
Riverbend Rocks
Spend a day in your favourite suburb with a photography workshop from Burwell School of Photography, a deluxe 60 minute massage from River Stone Massage and Wellness Centre, and a $100 gift card and meal planning pad courtesy of Simply Supper.
24
Face Forward
Hit them with your best (head)shot with a deluxe headshot package from Admire Studios, where everyone is extraordinary.
25
Fit for a King
Generously donated by our friends at Stantec, this hockey lovers dream package includes a signed Oilers jersey by Ethan Bear, and four Oil King tickets in Stantec's theatre box with all food and drinks included (alcohol additional).