Current Opportunities
There are no opportunities at this time.
Overview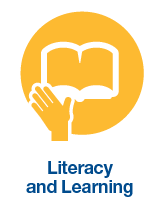 Languages we are recruiting for are: Mandarin, Cantonese, Arabic, French, Tagalog and Urdu.
The Edmonton Public Library's English Language Learner's Computer Program helps newcomers develop their technology/digital literacy skills.
Purpose
Volunteer interpreters assist in providing translation to participants to enhance their learning and understanding of the program.
Position Overview
Help program participants to follow program instructions and activities by relaying instructions to participants in one of the following languages Mandarin, Cantonese, Arabic, Tagalog and Urdu.
Skills/Qualifications
Required
Fluent in both oral and written English and one of the following languages: Mandarin, Cantonese, Arabic, Tagalog and Urdu.
Knowledgeable in basic computer applications.
Effective communications skills.
Ability to demonstrate patience when working with participants.
Ability to work effectively, independently and collaboratively within a team environment.
Preferred
Experience working with diverse populations.
Teaching in a group setting.
Type of Commitment
Must be able to attend all 12 weeks of the program, January 8 to March 26, 2019 from 6:30 p.m. to 8:30 p.m. at the Enterprise Square branch only.
Benefits to the Volunteer
Support English language learners in their computer learning process.
Potential to obtain a reference.