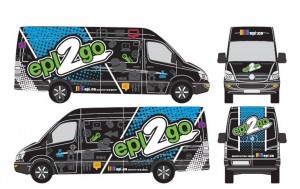 epl2Go Literacy Vans bring the latest technology resources, along with library programs and services, to Edmontonians who don't have easy access to the library due to their location or lack of transportation.
People who live in new or underserved communities throughout our growing city, including in seniors' homes, daycares, boys and girls clubs, group homes and schools are now enjoying access to library resources more than ever before. 

Approximately $250,000 was required for equipment and program costs for each epl2Go Literacy Van. Thanks to your donations, four new Literacy Vans (one for each quadrant of the city) will be going around Edmonton helping individuals prepare for a lifetime of learning. 
Visit the epl2go page to learn more about our Literacy Vans.