Current Opportunities
Please check back soon for 2018 session dates. 
Overview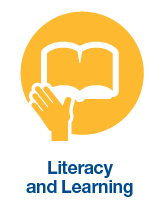 Reading Buddies is an opportunity for junior and high school students ages 13 to 17 years to volunteer their time and enthusiasm mentoring kids in grades 2 to 4.
Teens and school-aged children are partnered for one-on-one reading and interactive games.
Program Purpose
To provide a safe, friendly environment for young students to experience the magic of reading.
To increase young readers' interest in reading.
To provide a fun library experience.
To provide an opportunity for youth volunteers to develop mentoring skills.
Volunteer Responsibilities
Attend mandatory orientation/training session.
Be a good role model for their little buddy.
Facilitate Reading Buddies program to little buddy, including reading, literacy games and conversation.
Qualifications
Love of reading.
Experience interacting and assisting children and/or a desire to interact with and assist children.
Ability to communicate.
Strong English language skills.
Patience, enthusiasm, and an encouraging attitude.
Willingness to work in a group and cooperate with fellow teens and program coordinators.
Training
Reading Buddies volunteers must attend the mandatory training session.
Ongoing guidance may be given at each Reading Buddies session.
Reference
Please complete the Reference Form. You can download the reference form and email it to your reference. Once you have applied, you'll be advised where to email your completed reference form.
Note: Your reference must come from an adult who is NOT a friend or family member. People to ask include a teacher, coach, youth group leader, or an adult who knows you in a professional capacity.
Parental Consent
Please have your parent or guardian complete the parental consent form and bring it to the mandatory training session.