Tololwa M. Mollel
Tololwa M Mollel is a seeker, facilitator and animator, maker, and sharer of stories. He has published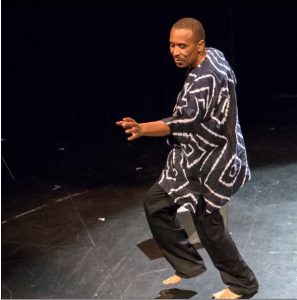 stories in English and Swahili in books, anthologies, and magazines, for children and for adults. Some of his stories have been translated into Korean, Serbian, and other languages. He is currently writing his life story, "Why We Have Two Ears and Only One Mouth: A Tanzanian Memoir". Tololwa is also known for performing stories he writes, solo and/or with other performers, for his story workshops, and for his plays in which he sometimes acts. He has been an actor in his native Tanzania and in Canada. 
To learn more about Tololwa M. Mollel please visit his website. You can also view a list of Tololwa's books that are available at EPL.
---
Leif Gregersen
Leif Gregersen was born in the early 70's in St.Albert and developed a love of libraries and reading from an early age. Even in his elementary school years, Leif would walk to the St.Albert library after school almost each and every day to get a fresh book. Leif also began writing in elementary,
trying to entertain his classmates with comic book stories he wrote and illustrated. Leif lived in St.Albert in the same house with his parents until he was 18 when he  left for Vancouver to seek out new options and to try and escape his situation of being in poor mental health. After going to flying school for a while and hitch-hiking to California, Leif returned home to complete school and was accepted to a journalism program that was later cancelled. Leif spent a great deal of his time over the next years reading all the quality literature he could get his hands on and working on and off on his first book, "Through the Withering Storm." Around this period in his life, he found a job he loved working with the most amazing people he had known as a stage hand and security guard for IATSE, the union that handles entertainment. Through the help of a friend's sister, Leif was able to get his book edited after working on it for nearly 20 years and it has now turned into what could easily be considered a self-publishing success. After finding out how to complete the self-publishing process, Leif went on to write four poetry collections, two short story collections, two young adult novels and a sequel to his first memoir which has now been revised and re-published in a second edition. Leif now lives in McCauley and has said he wouldn't move away for the world, he loves the people and the culture every bit as much as he loved St.Albert.
To learn more about Leif Gregersen please visit his website.
Don't forget to check out the list of Leif's books that are available at EPL.
---
S.G. Wong
SG Wong holds a B.A. (Honours) in English Literature from the University of Alberta. She speaks four languages—at varying degrees of proficiency—and usually only curses in one of them. She is a member of the Writers' Guild of Alberta, Crime Writers of Canada, and Sisters in Crime (National). She is currently the President of the Sisters in Crime—Canada West chapter.
From 2012-2016, SG Wong was Vice President of the Get Publishing Communications Society. From 2014-2015, she served as Conference Co-Chair and Programming Chair for the Words in 3D 2015: Intersections literary conference, held in May 2015.
She has been Head Writer for the environmental social enterprise, Verdigo, since 2012.
SG Wong has moderated panels, been a panelist, and has presented at such diverse events as the Calgary Comics and Entertainment Expo, the Edmonton Comics and Entertainment Expo, the PureSpec Science Fiction Festival, the When Words Collide readers festival, the Bloody Words XIII mystery convention, the Words in 3D 2015 literary conference, and Word on the Square (as part of LitFest, Canada's only non-fiction literary festival). She has been on various Edmonton Public Library panels, hosted by different writers-in-residence, since 2014. As a member of the Young Alberta Book Society, SG has led a 2-day writing/editing workshop for grade 7 students. Most recently, she co-designed and co-presented a self-publishing workshop as part of LitFest 2016, and presented as part of the inaugural Indie Author Day 2016.
SG Wong's debut novel, DIE ON YOUR FEET, was originally published in 2013 as an ebook, by Carina Press. It was a finalist for a 2014 Arthur Ellis Award for Excellence in Canadian Crime Writing for Best Crime First Novel.
SG Wong has since parted ways amicably with Carina Press and now publishes the Lola Starke series as an indie author. The second Lola Starke novel, IN FOR A POUND, was nominated for a 2016 Whistler Independent Book Award. Her short story, "The Fix," is published in Sleuth Magazine, while "Movable Type" is included in the anthology, AB NEGATIVE (Coffin Hop Press, 2015). "Movable Type" was a finalist for a 2016 Arthur Ellis Award for Best Short Story. The third Lola Starke novel, DEVIL TAKE THE HINDMOST is her latest release.
SG Wong has also published in Avenue Edmonton magazine and has been a "Blue Pencil" mentor for the Canadian Literature Centre at the University of Alberta. She recently completed a term as a mentor with the Writers' Guild of Alberta Borderlines Writers Circle, working with Nepali-born writer, Anamol Mani.
She lives in Edmonton with her family. There are also LEGO. And light sabres. And cookies.
To learn more about SG Wong please visit her website.
Don't forget to check out the list of her books that are available at EPL.