On the Edge is a speaker series featuring cutting edge research presented by scholars and researchers from Edmonton's academic community. The following presentations are presented with the University of Alberta's Faculty of Graduate Studies and Research.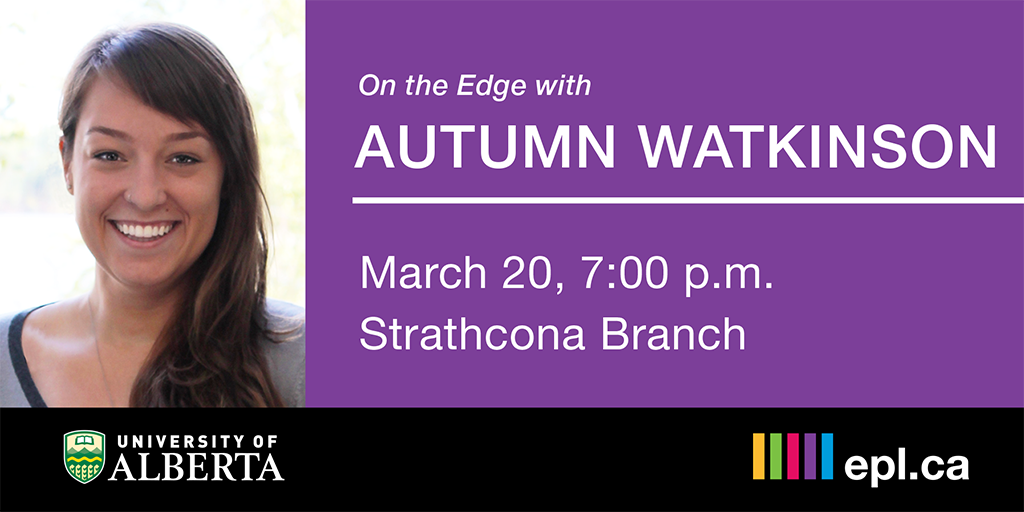 Save the Last Dance! Conservation of Greater Sage-Grouse and Habitat Restoration
March 20, 2018 - 7PM
Strathcona Branch
The Greater Sage-Grouse is an iconic prairie species, best known for its unique mating dance, but lately it's the Sage-Grouse's conservation status and declining populations that have been making the bird famous. Greater Sage-Grouse are endangered, with only 350 individuals left in Canada. Population declines have been linked to habitat loss and fragmentation but by restoring habitat we could help Greater Sage-Grouse recover. But how do we restore one of the most sensitive ecosystems on the planet? That's exactly the question Autumn Watkinson's research aims to answer!
Autumn Watkinson is a PhD Candidate in Land Reclamation and Remediation at the University of Alberta and is a member of the Land Reclamation International Graduate School. Autumn has 5+ years of experience in land reclamation with past and current projects in mine reclamation, soil development, and protected ecosystem restoration. Autumn is passionate about science communication and recently completed a Communications Fellowship with the Telus World of Science and competed in the National Finals of the 3 Minute Thesis.
Registration is now open for this FREE event.