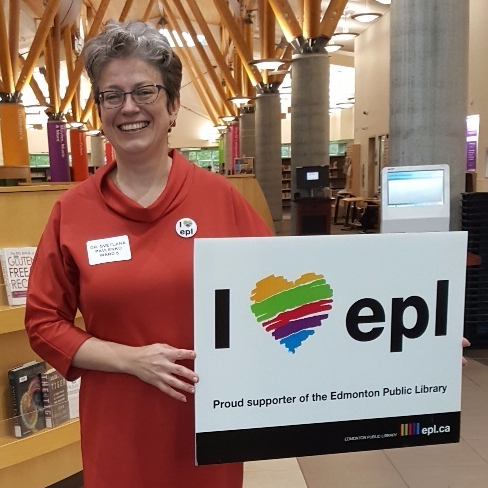 We sent out a brief, fun survey about libraries to all of the nominees running in the 2017 Edmonton civic election to help you get to better know your candidates.
These are the answers that Dr. Svetlana Pavlenko from Ward 5 sent back to us.
Election day is Monday, October 16. Get to know your candidates, learn how you can support EPL,  and don't forget to vote!
1. What is your favourite library memory or experience?
When I was doing my MA (Leadership) with the University of Guelph, I received amazing support from the EPL staff. It was great to have my own space in the library where I was able to focus and have all my research needs met.
2. What is your favourite book, movie or song right now?
One of my favourite movies is As Good as it Gets (1997). The main character is Melvin Udall (played by Jack Nicholson).
The movie reflects on many issues of our society. As Good as it Gets has a great sense of humour and encourages people to be kinder and more accepting.
3. What magazines, newspapers, blogs, Twitter accounts and/or podcasts do you follow?
4. Which fictional character do you most relate to and why?
I feel sometimes like Dorothy (Wizard of Oz) who was taken by a tornado and brought to a new magical and unfamiliar Land—Canada.
Contrary to Dorothy, I decided to make this new land my home and during my adaptation adventure I met many friends who have helped and supported me all these years.
While facilitating a women's support group I realize that many suffer from self-doubt, fear of uncertainty and rejection; losses they encountered through the immigration process. I also learned that magic happens and we do change ourselves and the world around us when right people meet each other and collaborate to achieve common good.
5. What is one book you think everyone should read and why?
I think everyone should read The Call of the Wild by Jack London. 
This book is about the life and journey of self-discovery by Buck, a home-spoiled California dog, who was kidnapped and sold as a sled dog to gold hunters in the Klondike. Buck encountered transformative life experiences, found meaning for his life and became a leader.
6. What book is on your nightstand (or on your eReader or tablet) right now?
I am enjoying The Hare with Amber Eyes: A Hidden Inheritance by Edmund de Waal. 
This book is an amazing autobiography written through the prism of an extraordinary family history that takes the reader all over the world from the nineteenth century to the present time. The language of this book is so beautiful that I reread certain pages a few times.
7. Election Day (October 16) is also Boss' Day. Who was your very first boss and what was your job? What was one important lesson you learned from them?
I have been working since I was 16 years old and my first job was a Summer Camp Director's Assistant. My boss was a very ambitious and hard-working woman who provided me with the opportunity to make my own decisions. 
The catch of this independence was my own responsibility to deliver the promises. I learned that if I promised something I had to deliver it despite all the issues and barriers faced.
8. What role do you see EPL playing in a thriving and vibrant Edmonton?
I strongly support the F. Bacon idea that "Knowledge is Power." EPL enhances this power through the variety of books, magazines, electronic recourses, programs and services it provides. 
I always admire the innovative approach EPL uses to address social and educational issues in Edmonton.