Written by Tamsin Shute, Youth Services Librarian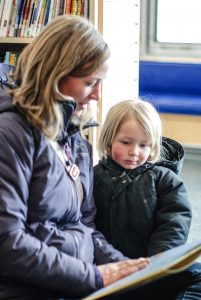 With the recent devastating fires in Fort McMurray, many families found themselves having difficult discussions with their children they never expected to ever have.
Forest fires do play a role in forest ecology, but can be devastating when they get too close to homes. Not only did young children learn about new concepts like evacuations, shelters and emergency relief over the past few weeks, they also experienced new emotions related to anxiety, changes, grief, loss and fear. Even children who were not affected directly by the fire worried about their own vulnerability, in light of learning about the powerful force of nature.
When major events happen, each family responds differently. Sometimes we use humour to cope, sometimes we search for facts to make sense of the world and sometimes we just need to acknowledge any new emotions we are feeling. As Fred Rogers famously said: "When I was a boy and I would see scary things in the news, my mother would say to me, 'look for the helpers'. You will always find people who are helping.'"
EPL, along with countless organizations and individuals, has been finding our own way to help, from working directly with evacuees when they were in temporary shelters, to updating our membership policies to helping displaced families gain access to needed resources.
Whatever conversation your family is having, there are many books that may help you navigate through those difficult topics with your child. EPL staff have compiled a collection of book lists that focus on emotions, loss and information that may explain more about why has been created. At EPL you can also request your own Personal Picks book list to receive a customized list to meet your family's needs.
Be in the know with EPL! Sign up for our eNewsletter to receive more helpful information.