Family Day is coming up on Monday, Feb. 15. We've been huddled up inside for quite a while so let's brush off the snow and take this opportunity to spend some serious quality time with one another.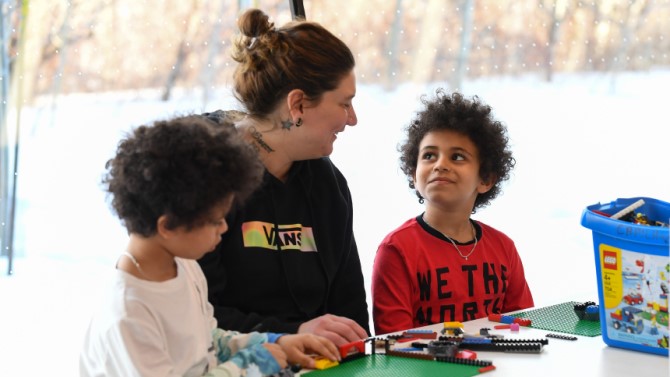 Five Benefits of Family Time
While we enjoy plenty of benefits from having more engaged, quality experiences with our families, the Child Development Institute lists five that clearly demonstrate just how important family time can be to a child's development:
Children feel important and loved.
They have an opportunity to model their parents' behaviour.
Parents can observe and learn about their child's strengths and weaknesses, which helps them to better guide them.
Children have a chance to voice their thoughts and feelings.
Parents and children develop a stronger bond.
Happy and healthy children need lots of quality time and attention from their parents or caregivers—every day. Family Day is a great opportunity to give children our full attention and focus on having fun through any number of simple, free activities. Here are seven ideas to get you started.
Seven Free Activities for Family Day 2021
What does Family Day look like during a pandemic? Things may be a little different this year, but there are still many great ways to spend Family Day together and create special memories. 
1. Get creative
Whether you're into Science, Technology, Engineering, Arts or even Math, we've got you covered. Learn how to make puppets or balloon-propelled vehicles with Creativebug. Take on a STEAM challenge and make a self-powered car.
2. Read stories together
Reading out loud never gets old, so grab a good book and read together. Check out our suggested read-alouds for kids in Kindergarten up to Grade 3 and Grades 4-6 or winter-themed books for little ones and older kiddos. You can also get titles to suit your family with a Personal Picks Pack—tell us what you're after and we'll pick out a few items to surprise you. Available for pickup through our Library Takeout Service.
Prefer digital? Bookflix and Tumblebooks are great resources for eBooks, audiobooks and videos that promote early literacy and learning.
No matter the book, making reading a shared activity encourages discussion, which also helps to develop important literacy skills.
3. Get cooking
Learn to cook pierogis, canjeero or other dishes from countries around the world with AtoZ World Food. Love baking? Check out our collection or watch as our expert guests show you how to make treats including butter tarts and bread as part of our Sustainable Kitchen series.
4. Play some fun games
Board games can be both educational and fun—check out this great list of board games for preschoolers and smaller children. Not a board game fan? What about card games, jigsaw puzzles or charades? You could even try an old-fashioned game of hide-and-seek in your house!
5. Get outside
Edmonton's parks are still open for everyone to enjoy! Enjoy some ice skating together at Hawrelak Park or Victoria Park, or grab some snowshoes and head out to Elk Island National Park. Have a toboggan? Check out Emily Murphy Park or Gallagher Park for some great sledding options. Remember to bring along your mask and maintain physical distancing.
6. Host a family movie night
Check out or stream some of your favourite movies from the Library, pop some popcorn and curl up under a big blanket together. Need some inspiration? Check out this list of family-friendly picks or our full children's movie collection. You can also stream movies from hoopla or Kanopy, which also includes a huge selection of children's movies.
7. Join EPL online this Family Day

While we won't be able to host you in our branches this year, EPL has a full afternoon of online fun planned for Family Day. Join us for a live baking class, watch a shadow puppet show, make your own musical instrument and learn all about marine sea creatures! See the full schedule of events.