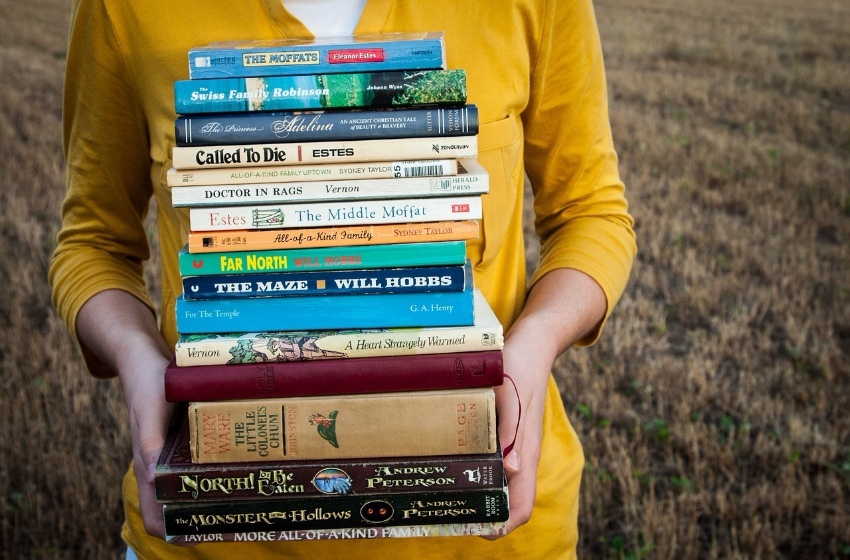 It's a brand new year and the perfect time to dive into some new reads. Start the year off right by joining our brand new 2018 Reading Challenge and dare yourself to read outside your comfort zone. Discover books from a variety of authors, perspectives and genres.
We've got a challenge for each month of the year, all designed to help you choose your next read. Check back throughout 2018 for book recommendations to go with each challenge.
As you read, share your progress and discuss your picks on social media using the hashtag #EPLReadingChallenge. Get ideas on what to read for each challenge and share your own recommendations.
What is a Reading Challenge?
Reading challenges are a fun way to read more and challenge yourself to choose books you might not otherwise have picked up. They're like a self-directed book club. You can go it alone, share book picks with a buddy or use the challenges as inspiration for your actual book club. The sky's the limit.
The 2018 EPL Reading Challenge officially kicks off in January 2018 with a prompt following for each month of the year, but you can join anytime you like. Just pick a challenge and enjoy the journey.
Click on a challenge to be taken to its description.

January — Cinematic Reads Challenge
Even though we all know that the book is *always* better, it can be a lot of fun to watch a film based on a book you've read. For January's challenge, find an upcoming movie based on a book and read it before it hits the big screen. (We like to finish the book before we see the movie, but that part's up to you.)
To make it easier, we've rounded up 10 great books being turned into movies in 2018.
February — Banned Books Challenge
Freedom to Read Week is an annual event held every February that "encourages Canadians to think about and reaffirm their commitment to intellectual freedom." Protected by the Charter of Rights and Freedoms, intellectual freedom allows us to seek and receive information from all points of view without restriction. Simply put, it means you can read whatever you want.
This February, celebrate your right to read whatever you choose by picking up a book that has been challenged or banned.
March — Recommendation Challenge
Who doesn't love a good recommendation? For the month of March, tackle a book that's been recommended to you. You can ask a friend, colleague or family member to suggest a book they think you'd like or ask them about their personal favourite.
Don't feel like getting a recommendation from someone you know (or already exhausted that option with past asks)? Branch out by choosing a book that's been recommended by one of your favourite authors, a public figure or a celebrity. Quite a few celebs have online book clubs with plenty of options to choose from and tons of publications compile recommendations from influencers. For instance, former President Barack Obama shares a best of list at the end of each year featuring his favourite reads and songs from the year.
April — Comfort Zone Challenge 
Time to really start pushing yourself. For April, pick a book from a genre you woudn't usually read and read it in a format you wouldn't usually choose.
Don't worry, it's simpler than it sounds.
Are you a diehard paperback romance reader? Check out a memoir on audiobook. Can't get enough eBook mysteries? Try a young adult graphic novel instead. With plenty of genres (including creative cross-overs) and lots of formats to enjoy them in, the possibilities are (virtually) endless!
EPL offers reading material in a variety of formats, including physical books, eBooks, audiobooks on CD, downloadable or streaming audiobooks, large print books and graphic novels.
May — Read Local Challenge
Alberta is home to tons of great writers, many of them right here in Edmonton. Get to know the talent close to home by checking out something by a local author.
EPL offers plenty of local material, with options in a variety of genres. Explore digital books from Alberta writers in OverDrive and a mix of physical and digital books from Alberta authors in EPL's catalogue. 
June — Indigenous Writes Challenge

Indigenous writers across Canada are sharing exceptional stories, fiction and nonfiction alike. Celebrate National Aboriginal History Month by picking one up and immersing yourself in it.
Explore both Canadian and international Indigenous authors with titles from EPL's Indigenous Collection.
July — Read Far Challenge 
Books have an almost magical ability to transport us to another place and time. Use this month's challenge as an opportunity to take a trip on the page and visit someplace you've always wanted to go.
Whether your destination is across the globe or someplace right here in Canada, we can pretty much guarantee that there's a book set there. Time to start exploring.
August — Laugh Out Loud Challenge
In the summer heat, nothing beats a nice light, enjoyable book. That's why August's challenge is to find a book that makes you literally laugh out loud.
Bonus: these types of books also tend to make excellent beach reads.
September — Debut Author Challenge
All of our favourite writers were, once upon a time, debut authors themselves. Time to discover a new potential favourite by picking up a read from a brand new author.
It doesn't have to have been published in 2018, but it should be a book from an author who hasn't yet published any other books.
October — Library Challenge
Books are their own kind of magic, so a book about books and the people who love them is like a double whammy.
October is Canadian Library Month, making it the perfect time to dive into a story about libraries or librarians. We're sure we can recommend a few…
November — Read-a-Date Challenge
For November, take a trip back in time.
Pick a year that's significant to you—perhaps the year you were born or when you graduated—and find a book that was published that year. If you want to take things one step further, try narrowing publication down to the exact month (or even the day).
Plenty of time to read? Repeat this process for as many significant dates as you like.
December — Childhood Favourite Challenge
There's no better time than the holidays to indulge in a little nostalgia. Delight your inner child by re-reading one of your childhood favourite books.
So what are you waiting for? There are plenty of books just waiting to be read this year.