On Monday, Feb. 17, thousands of families across the province will enjoy one of our favourite winter statutory holidays—Family Day! This year, we'll also celebrate the 30th anniversary of Family Day in Alberta. If you haven't made your plans yet, there's a lot happening in and around town on this day. Check out our handy list of eight fun events and activities, with one of them in particular being our very best pick (hint it's the last one!).
Celebrate 30 years of Family Day in Alberta at the place where it all started, the Alberta Legislature. Find history around every corner as you explore the Alberta Legislature Building open house. Enjoy musical and magical entertainment by world-class performers, including CBC Kids' star Will's Jams!
When: Monday, Feb. 17
Time: 11 a.m. – 4 p.m.
Where: Alberta Legislature Building, 10800 97 Ave NW
Spend time in the galleries—including Curious CITY and the newly reimagined Science Garage—and enjoy the final days of the feature exhibit, Marvel: Universe of Super Heroes.
When: Saturday, Feb. 15 – Monday, Feb. 17
Time: various times
Where: Telus World of Science, 11211 – 142 St NW
Everyone can enjoy free admission at the Royal Alberta Museum. Tour the Museum's incredible spaces, including the Human History Gallery, the Natural History Gallery, the Bug room, and our favourite, the incredible Children's Gallery!
When: Monday, Feb. 17
Time: 10 a.m. – 5 p.m.
Where: 9810 103A  Ave NW
Enjoy 'Pay What You May' admission and visit the AGA for family art activities!
When: Sunday, Feb. 16
Time: 11 a.m. – 5 p.m.
Where: 2 Sir Winston Churchill Sq. NW
The whole crew will have a great time at the Rutherford House Family Day Open House. You can tour the historic mansion for free! The tours will give visitors a chance to "get to know" Alexander Rutherford (the first premier of Alberta) and his family better. 
When: Monday, Feb. 17
Time: 12 p.m. – 4 p.m.
Where: Rutherford House Provincial Historic Site, 11153 Saskatchewan Drive
Enjoy free public skating, live music and entertainment at the Silver Skate Festival! This is the 30th anniversary of the family-friendly festival in Hawrelak Park.
When: Friday, Feb. 7 – Monday, Feb. 17
Time: 11 a.m. – 10 p.m. (public skating)
Where: William Hawrelak Park, 9330 Groat Rd NW
Enjoy a free all-ages skate this Family Day weekend. Children must be accompanied by an adult. Bonus, there will be free snacks and juice! Skate rentals are not available, so please bring your own skates and helmet.
When: Monday, Feb. 17
Time: 1 p.m. – 3 p.m.
Where: River Cree Sports, 300 East Lapotac Blvd
Given it's a new decade, EPL will Go Beyond the Books and, like it suggests, you'll learn something new and exciting about EPL this Family Day. Go behind the scenes and discover hidden gems in our collection, check out the newest tech tools and, at select locations, get an insider's view at our book-sorting machine in action!
You'll not only get to enjoy drop-in games, classes and activities, but you'll have a chance to enter to win one of four Cineplex Movie Packs in-branch!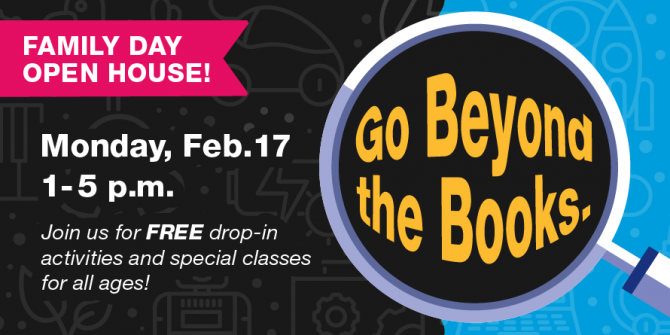 Come see another side of EPL, join us this Family Day and go beyond the books!
When: Monday, Feb. 17
Time: 1 p.m. – 5 p.m.
Where: All EPL locations
Enjoy a variety of fun and educational activities at the Library this holiday Monday. Check out what's happening on Family Day near you!