In celebration of Mother's Day, we asked our staff what they've been doing to stay connected with their moms. We're hoping these ideas and activities inspire you to go that extra virtual step for your mom this Sunday, May 10.
Everyone deserves to be celebrated right now so let's give it up for the moms!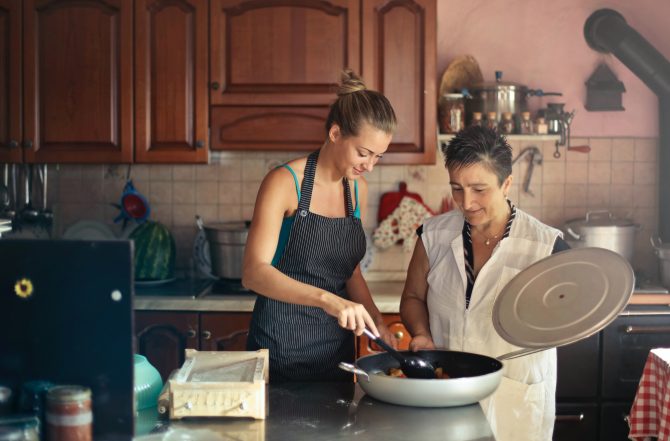 ---
Virtual Hugs for Mom
1. Food Cures All
"I've been doing 'simultaneous meals' with my mom. We pick a recipe together in advance, buy all the groceries required and then video chat while we cook and eat our creations! It's great because it's a totally shared experience yet the outcomes are slightly different depending on factors such as available groceries, cookware, timing, etc. It's my mom's birthday next week and we plan on doing a two-part simultaneous cake bake with my parents and siblings (and their partners) — making the cakes together the day before her birthday, then singing happy birthday and eating together on her actual birthday! It's the next best thing to being able to bake for her." — Kyle Marshall, Associate Manager at the Lois Hole (Callingwood) Branch
2. Pass the Crumpets, Please!
"My mom lives in Ontario, so we always meet over video chat. One thing we like to to do is high tea. We make some fancy sandwiches and cookies, break out our best hats (you can wear it with your PJs if you want!) and then we drink tea and chat.
Another thing we'll do is pick a TV show and watch an episode together every week." — Meg DeForest, Community Librarian at the Jasper Place Branch
3. Crafters Stick Together

"My sisters, mom and I have been enjoying weekly Zooms on Thursday evenings. We've played some online games together (via Kahoot or Jackbox TV), but mostly we just chat. We also all love to knit, crochet and embroider so there is this cool positive peer pressure to pick up your project and work on it while we jaw away. Just yesterday my sister, who lives in Calgary, said that she will miss this opportunity to connect weekly when life goes back to normal." — Rena Backstrom, Library Assistant at the Capilano Branch
4. Activate Your Green Thumb
"Plant the same flower/veggie/herb/any kind of plant and keep each other posted on its progress!" — Quincy Hiscott, Licensing and Collections Assessment Librarian in the Collections Management & Access Division
Several greenhouses and garden centres have opened for business in Edmonton. You could take a trip to one and grab two identical plants or seed kits and have them waiting on her doorstep on Sunday morning. 
5. Brunch Delivered
"Brunch is delicious and even more so when it's with my mom. Since I can't take my mom out for brunch, I'm going to delivered it to her doorstep." — Marina Afonso, Communications Specialist in the Marketing & Communications Division
There are more than 20 restaurants in Edmonton that are delivering Mother's Day brunch and/or dinner. Having breakfast or dinner show up unexpectedly (maybe give some notice) on your doorstep is a great surprise! We'd also recommend treating yourself too.
6. Take in a Show (or Five!)

"We love spending time together watching local theatre and concerts. It's great because you can do it together with your whole family even when we aren't all physically together." — Karen Chidiak, Marketing & Communications Manager in the Marketing & Communications Division
One of the joys to come out of everything being closed has been the amount of concerts and plays streaming online. You can enjoy shows from the Citadel Theatre's Stuck in the House Series, music from the Edmonton Symphony Orchestra and productions from around the world. This might be the only time talking is encouraged during a performance. 
7. Enjoy a Walk Together
"The weather is starting to warm up so we plan to take advantage and head outside for a walk as a family." — Craig Pinder, Team Lead, Design and Production Services in the Marketing & Communications Division
This is an activity that you can do while safely physical distancing from one another. You can check out the buds starting on the trees and identify some of the birds in the Edmonton River Valley using our online resource, Birds of the World. Getting out for a walk can help boost your mood and relieve stress so why not do it together with someone you love? 
---
Looking for more ideas of things to do with your mom? Check out our weekly blog that covers what's happening in Edmonton.