If you're like many parents these days, you're likely running low on activities to keep your kids engaged. With the week-long Spring Break looming, what's a parent to do? Here are five FREE activities families can do together this Spring Break, whether you're indoors, outdoors or building a pinball machine out of cardboard!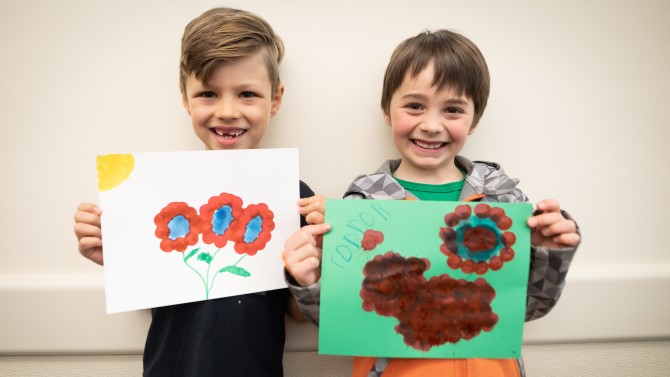 1. Get outside
We're all feeling screen fatigue so why not head outside and enjoy a little fresh air and splash in some puddles. Kids need a lot of outdoor time and physical exercise for healthy development. Plus, it also helps boost kids' mood and self-regulation (same goes for adults)!
Transform your front yard, balcony or nearby park into your own magical outdoor world using ideas from these great books:
Whether you're into hiking or walking, Edmonton and the surrounding area has so many great trails to choose from. Here are some our favourites:
2. Become a scientist
From Saturday, March 20 to Friday, March 26, the University of Alberta is hosting its annual free Science FUNday with virtual tours, pre-recorded science demonstrations, presentations and more. Get in the spirit with these kid-friendly non-fiction items.
3. Host a family art night
Bring the art from the big apple to your home. Borrow books from EPL about pop art and New York City, then create your own pop art masterpieces. For dinner, eat Campbell's soup or go for some NYC favourites like pretzels or Matzo ball soup. Next week, maybe find books about Frida Kahlo and make some tasty Mexican recipes!
4. Read the book, then watch the movie
Celebrate the end of a book—whether you read aloud a chapter book to young children or an older child reads on their own—by watching the movie as a family. For instance, read or listen to the audiobook of James and the Giant Peach, then borrow the DVD.
5. Explore worlds of wonder with EPL
From Saturday, March 27 until Thursday, April 1, join us online every day at 2 p.m. for free live and pre-recorded events as part of our annual Spring Break program. Find the hidden Cheshire Cat in our live events and you can enter to win amazing prizes!