Just because we aren't able to physically go out and enjoy the local Edmonton arts and events scene, doesn't mean they aren't still happening. To keep you and your family entertained while you're at home, we've compiled five (plus) digital events happening between July 6 and July 12, 2020.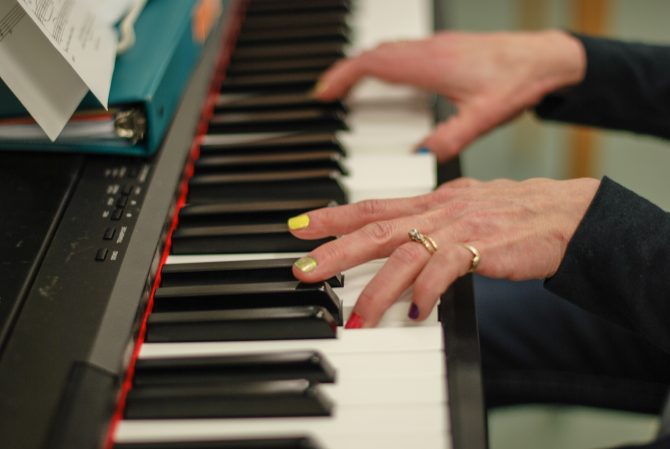 1. Play that Jazz
If you are missing the sweet sounds of local jazz, The Yardbird Suite is here to help. Every Tuesday and Friday evening they'll be live streaming musicians direct from their stage to your device. This week, tune in Tuesday, July 7 at 7 p.m. to hear Josh Krushel on piano, and on Friday, July 10 at 7 p.m. to catch François Houle on clarinet. For more information visit their website.
Don't forget the Edmonton Jazz Festival continues this weekend as well, and take a look through their on demand videos of performances so far.
2. Art for the Soul
The Pride Centre Edmonton is hosting The Creation Story, an Intergenerational and Two Spirit Beading Night. This two-part event begins on Monday, July 6 at 11 a.m. and continues Monday, July 13 at 5 p.m. Register online for your chance to join Knowledge Keeper and Elder R-W "who will examine the links between the young and the wise and the creation story from a Two-Spirit Lens while working on a beading project." There are some beading kits available to those who need them, while supplies last. 
Have you always been interested in drawing, but weren't sure where to start? On Tuesday, July 7, 12 p.m. join emerging Metis artist Halie Finney for a live drawing demo featuring a selection of figures from her work. She'll also be joined by AGA Curator, Lindsey Sharman for a discussion about her practice. Visit the AGA website for more information.
3. Get Mad with Science
Children age 5-12 can explore the depths of the oceans with Mad Science (Northern Alberta) as they delve into marine science with fun experiments and a special guest from the Mote Marine Lab on Friday, July 10 at 9 a.m. Space is limited, so register now for this free Zoom class.
4. Online Readings
The Writers' Guild of Alberta is hosting Karen Pheasant-Neganigwane for their next Online Reading Series on Tuesday, July 7 at 7 p.m. Join her as she reads from her children's nonfiction book Powwow: A Celebration through Song and Dance. This will be followed by a Q&A led by fellow children's nonfiction author, and past Capital City Press Featured Writer, Joan Marie Galat. 
5. Community
Abundant Community Edmonton
Interested in connecting with your community, getting to know your neighbours and being a part of a grassroots movement that is sweeping across the city? Then join the Abundant Community Edmonton New Participant Workshop on Thursday, July 9 at 1 p.m. to learn how you can get involved. These free tickets go fast, so register online to reserve your spot.
Historic Week
The City of Edmonton has declared July 5-12 Historic Week in Edmonton. The 24th annual Historic Festival and Doors Open Edmonton is going virtual this year, offering new ways for you to explore historic spaces in Edmonton from the comfort and safety of your own home. Visit their website for more information and access to extra resources, including a guidebook.
Seniors Centre Without Walls
Seniors' Centre Without Walls is the telephone-based social and health programming for anyone aged 55+ who want to socialize, learn new skills and stay connected. Visit their website for information on how to connect with this program and to see a full calendar of events for the month of July, or give them a call at 780-395-2626 to register.
EPL from Home: The Best You May Have Missed
Don't forget to check out EPL from Home as we bring you a wide range of new and ongoing classes and events: