By Katie Turzansky
Check out some of our favourite movies from 2016. Whether you're looking for last-minute gifts for the people on your list or are just looking for a couple of hours off from the festivities, EPL is here to help!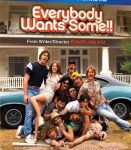 Although this comedy about 1980s college baseball players received critical acclaim for the ensemble cast and Richard Linklater's direction, it had a short theatre release. Check it out and see what you missed. The film's tag line says it all: "We're here for a good time. Not a long time."
The Cohen Brothers do it again! This fictional story follows the real life of "fixer" Eddie Mannix as he attempts to keep the scandalous behavior of a Hollywood Studio's stars out of the press. It wouldn't be the first unmarried pregnant actress he's helped, but when the star of the studio's major production is abducted and ransomed that's a whole new level of scandal–even for Hollywood.
A national manhunt ensues when the unlikely duo of a juvenile delinquent and his curmudgeonly foster-father take off into the New Zealand bush. Based on the book Wild Pork and Watercress this family-friendly adventure will tug at your heart strings, then have you laughing out loud.
Based on Jane Austen's Lady Susan, this not-so-serious period film follows the exploits of the wry and calculating widowed Lady Susan as she pursues wealthy and hapless men in search of suitable husbands for herself and her daughter.
A fantastical tale set in Ancient Japan. Get swept up in this epic adventure with Kubo as he travels with Monkey and Beetle on a quest to find his missing father's samurai armour in order to be able to defeat Raiden the Moon King and his army of evil spirits.
Awesome anthropomorphism anyone? You'll cheer on the unlikely partnership between a fresh from the farm rabbit police officer and a slicker than slick red fox con artist as they race to uncover a conspiracy involving the predator inhabitants of their mammalian metropolis make this a delightful family friendly police procedural.
If you just can't decide, why not let them choose for themselves from EPL's millions of items? Make a donation to EPL in honour of a loved one…and it will be a gift to the whole city!