READ IN Week takes place from Monday, Oct. 7 to Friday, Oct. 11, which means Mayor Don Iveson, Yukon Jack and other local Edmontonians will be seen reading books to students at schools across the city. The purpose of these one-of-a-kind storytimes is simple—to instill the love of reading in all members of our community. With strong literacy skills, children are more likely to go further and succeed in school, find future employment, have a higher income and be healthier and happier throughout life.
This year, READ IN Week turns 30 years old, so we want to encourage all families to join in the fun. It's especially important for parents to participate because children who see adults reading, and enjoying reading, are much more likely to want to read themselves. In addition, there are proven benefits to families spending time together.
Not sure how to celebrate READ IN Week at home? It's easy! Here are 15 ideas to get you started:
1. Read aloud together.
No matter their age, most kids love to be read to, especially by their parents. Choose an age-appropriate book and one that you're genuinely excited about. When you're reading, be sure to use your most animated voice and throw in a few gestures too.
2. Treat yourself.
Buy new reading material (a book, eBook, audiobook, graphic novel or magazine) especially for READ IN Week or get one from the Library. Not sure what to read? Check out these reading recommendations for Kindergarten to grade three and grades four to six from our expert EPL staff.
3. Get cozy.
Create a special space where your family can read together. Grab some bean bag chairs, add a few twinkle lights or build a fort with your kids. If you really want to get creative, create a theme for your cozy nook. Hit the beach with an umbrella, towels and sand toys, or go camping with a tent, sleeping bags and camping chairs.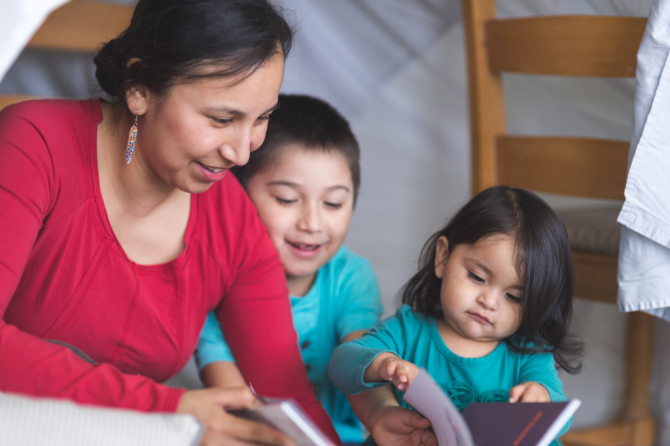 4. Host a book club for the week.
Pick something the entire family can read and choose a time and a place to meet. If you have older kids, consider inviting their friends to join too. Beyond standard discussion questions, get creative—imagine what happened after the ending, or come up with a different ending altogether. Learn more about how to host a book club.
5. Read together in a new location.
Whether it's a spot close to home (your neighbourhood park, the back deck, mom and dad's bed!), or around the city (the zoo, a local café, any of EPL's 21 branches), READ IN Week is a great excuse to try something different.
6. Turn dinnertime into reading time.
Choose a cookbook from your own collection or head to the Library and borrow one of ours. Let your child pick the meal one night and read the recipe aloud as you cook. For bonus points, have your child write out a menu too.
7. Plan a reading party.
What do you get when you combine stories, yummy food and fun book-related activities? The social event of READ IN Week! Consider a theme to bring it all together.
8. Build on the story in real life.
Let the book inspire activities your family can do in real life. Is your toddler really into picture books about fall? Head to the river valley for a walk. Is your teen reading a book based on a video game? Challenge them to a game while the family cheers on.
9. Read the book, then watch the movie.
Start reading a book together during READ IN Week and watch the film version when you finish it. Choose a movie the whole family will love such as A Wrinkle in Time, Charlie and the Chocolate Factory or Mary Poppins.
10. Choose a theme for your READ IN Week reads.
Check out EPL's list of 100 stories to experience before high school for fun theme inspiration including "Once Upon a Time," "Journey Through Time" and "Heroes and Hooligans."
11. Add a little drama.
Act out your favourite parts of the book or dress up as one of the characters. You can even turn the story into a puppet show or a song.
12. Invite a celebrity to your storytime.
While celebs won't actually come to your home, you can watch videos of actors reading their favourite children's books. Choose from big names such as Oprah Winfrey or famous kids such as the Big Three, aka the kids from the tv show This is Us. To see the complete collection, visit Storyline Online.
13. Find new favourites with NoveList.
Need a new book on dinosaurs but not sure where to look? NoveList helps you find books by age, genre and popular themes including these beloved reptiles. Once you have your list, head to epl.ca and log in to your My EPL account. Find your book and add it to your "For Later Shelf" to read at another time. You can make your shelf private or public so the whole family can see what's next on the reading list.
14. Listen to a book together.
Not a huge fan of reading? Audiobooks still count as reading, so trade your paperback for a CD or eAudiobook. These are great for the car or just sitting around in your living room. Here are some of the best audiobooks for young listeners.
15. Create your own story.
Take a break from reading other people's stories and create your own! Make it a family event where every person takes a turn to build a story. You can even do it over dinner one night! This also works by using wordless picture books.
---
If you have babies, toddlers or preschoolers, make sure you include them in your READ IN Week celebrations. While they may not be reading yet, they love being read to, especially when snuggled in close. Hearing parents and siblings voices also helps with their language and literacy development. For great books to read with younger children, check out this list of reading recommendations.